Blog provided by Cedric Le Rouge of ADEXMA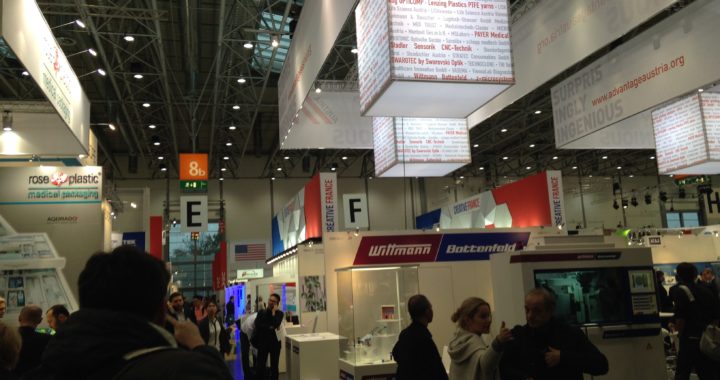 Attending a European trade show can reward even the busiest manager with a fresh outlook, new connections, and great opportunities. Feel like you don't have the time to spare? In just ten weeks, your business can benefit from all that some of the biggest trade shows in the world can offer, such as the Hanover Messe. What makes the travel to Europe even more worthwhile is the benefit of the prep work and research that you do before you go, and the follow up when you return. The trade show is not just a one-week event; rather, it is a chance to communicate with fellow attendees and organizations before, during, and after the show.
Six Weeks Before the European Trade Show
By selecting the trade shows related to your target audience, you can engage with a large number of prospects in a short period of time. Understand your target business environment and market information. Europe is a large market, so you might choose to attend multiple trade shows during a two-week trip.

Make your research on the exhibitors list. Most trade shows give you access to the exhibitors list with contact information and sorting capabilities. Some even help you organize business-to-business meetings by sending a message to the company to ask for a specific time during trade show hours. I usually engage with attendees six weeks ahead of the exhibit to start asking for appointment. Even if the trade show has a platform that organizes meetings, I confirm with a direct email to the prospect to validate their contact information and make sure that they also have my information in their mailbox.
The more you do your research and keep your customer relationship information up-to-date prior to your trip, the better your business trip and your follow up when you return will be. You should know why you want to meet with a specific person and what you have to offer that is unique.
Two Weeks During the European Trade Show
Forget the car. In France and Europe in general, public transportation by train or bus is the easiest. I remember trying to find a parking spot in Paris, at Porte de Versailles, to attend a trade show and after more than an hour and a half I still had not found a place, so I ended up parking far away from the show and came in by metro.
You can also download the trade show app, but for location capability you need to have a good data plan solution for international mobile phone service. This can be very expensive if you do not plan ahead. I now purchase a European SIM card to have the same freedom of use than in the United States, and it is often less expensive.  Call me old fashioned, but I always keep a backup paper copy of my schedule, transportation, and lodging documents. You never know if your phone will run out of power or the train controller will want a paper receipt.
During the meeting, make sure to respect the local etiquette and start by talking their language, even if it is just to ask if someone to speak English + your name + your company's name: "Bonjour, Il y a-t'il quelqu'un qui parle anglais s'il vous plaît? Je suis Monsieur LE ROUGE de la société ADEXMA."
Use Your Research to Your Advantage
Have your pitch ready and adapted to your audience. This is where your research will pay off at a European trade show. If your prospect sees you have put the time in to look at their website and their information, they typically respect your interest and answer some of your questions. Make sure to have more business cards than you think you are going to need; they have the tendency to go faster than expected. For the brochure or handout, I prefer send it by email because at trade shows we all have too many brochures and it gives you a reason to follow up.
Keep some extra time between your connections and meetings in case something happens. Often, something happens: transportation delays, or you get sick. If all goes well, I have a list of contacts who I was unable to confirm an appointment with beforehand. You would be surprised at the number of people you can simply meet at the show. Exhibitors are ready to talk about their company and products. I typically double my number of appointments directly on the show floor.
Follow Up Two Weeks After the European Trade Show
Follow up is key in the two weeks after the event. You are coming back home and the exhibitors are packing before going back home. The result is that everybody is tired, but don't throw all that work out the window. Register their contact information in your CRM database, record what you talked about, send an email, and schedule a follow up reminder. If you are exhibiting, VAT can be refunded on some items. For example, if you exhibit in France, you can contact your local French-American Chamber of Commerce and they will assist you with the paperwork.
In conclusion, doing the research before attending a European trade show and following these tips will help you make the most out of your visit. There is no substitute for meeting contacts in person, which is why international trade shows are such an important part of the marketing mix. Contact an international marketing company like ADEXMA to get help with research, build a strategy, and conduct follow up that will give you measurable results.
Bibliography
Absolute Exhibits. "Top Trade Fairs in Europe." https://www.absoluteexhibits.com/top-trade-fairs-in-europe.
Events Eye. http://www.eventseye.com.
Exhibit in Europe. http://www.exhibit-in-europe.com.
Neventum. "Trade Shows." http://www.ntradeshows.com.
Trade Fair Dates. https://www.tradefairdates.com.
Trade Show News Network. http://www.tsnn.com (2017).
https://www.felberpr.com/wp-content/uploads/Felber-30th-logo-600-min.jpg
0
0
Rob Felber
https://www.felberpr.com/wp-content/uploads/Felber-30th-logo-600-min.jpg
Rob Felber
2017-08-31 14:06:17
2018-01-15 09:08:53
10-Week Program to Ace European Manufacturing Trade Shows