"Help Wanted"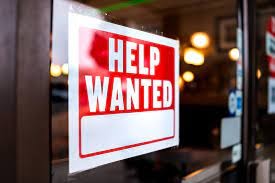 Have you seen the "Help Wanted" signs at businesses in your city? It's no secret that Covid-19 impacted every business across the globe. We are currently living the aftermath of the virus. As more people get the vaccine, businesses are starting to open up completely and there is a high demand for workers. According to Eric Morath, writer for WSJ, he stated, "openings continued to grow in May (2021) according to job search site Indeed.com. That followed an increase of nearly 1 million unfilled positions in April, to 9.3 million, the highest level on records back to 2000," leaving endless opportunities for those looking for work. The number of job postings in May reached 27%, which was led by various industries who are looking for help. Manufacturing has seen a growth in the number of employees in May of 2021, but not enough to counteract the losses in April.
The U.S. Department of Labor Statistics stated in their report, "Job Openings and Labor Turnover – April 2021," that in December of 2020, job openings increased in various industries, reaching a high of 9.3 million. In manufacturing, this number reached (+78,000) job opportunities. As of April 2021 hires in durable goods manufacturing were (-37,000), showing that the manufacturing industry has still not recovered from the Covid-19 outbreak. The manufacturing industry will continue to suffer if nothing is done about the drastic decrease in hires.
How can your company recruit more workers?
With these record-level job openings across the country, it is crucial to have a marketing plan in order to attract potential employees. Here are a few ways to get your company's name out there to those in need of work:
Make applying for a position easy. Use online forms on the company website

Host job fairs with access to proficiency and drug testing, factory tours, and benefits discussions

Continuously posting on job recruiting websites 

Reaching out to previous employees or current employees and telling them to refer those in need of work

Post in the local newspapers

Utilize local radio advertisements 

Have a strong social media presence that is updated regularly

Utilize billboards

Movie commercials (those pre-movie ads in the theater)
How one local manufacturer is pulling out all stops for recruitment: a case study with Grand River Rubber & Plastics
Grand River Rubber & Plastics Company is a 100% employee owned company in Ashtabula, Ohio. Grand River specializes in lathe cut gaskets, vacuum sweeper belts, and drum and pail gaskets. Since Covid-19, Grand River has been using various marketing tactics in order to attract more employees. Grand River utilized a billboard, continuous social media posts on Facebook, LinkedIn & Twitter, print ads in local newspapers as well as movie commercials (those in theater pre-movie commercials), and a local radio commercial, to gain the attention of potential employees.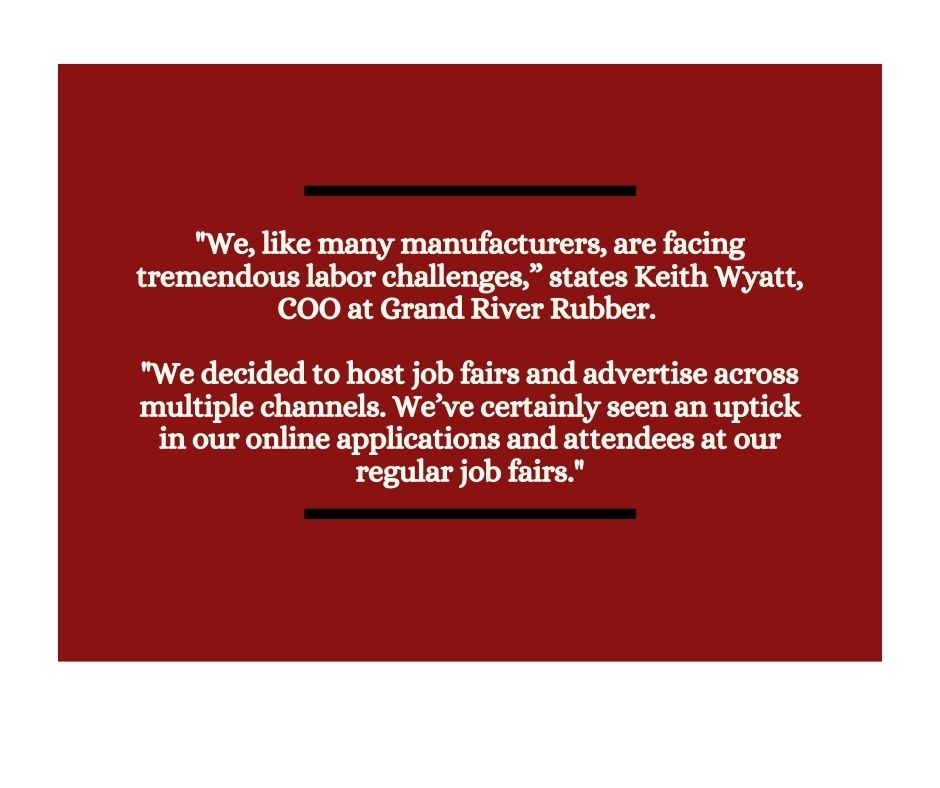 The billboard advertisement will help to gain the attention of anyone driving alongside the highway. With the link to the website on the billboard and big lettering saying, "We're Hiring," this will catch numerous drivers' eyes. Having clear and defined social media posts is what will attract potential employees. Knowing which channels to use is also a crucial factor when deciding where to advertise. The print ad is detailed and organized with valuable information on Grand River and how to apply. The movie commercial will be played before any screening when the audience is waiting for the movie to start, giving it a large reach. Lastly, the radio commercial that will be played in the local radio stations near the factory is a great way to geo-target a specific audience in search of those who could be potential employees.
https://www.felberpr.com/wp-content/uploads/Felber-30th-logo-600-min.jpg
0
0
Rob Felber
https://www.felberpr.com/wp-content/uploads/Felber-30th-logo-600-min.jpg
Rob Felber
2021-06-29 15:40:07
2021-06-29 15:46:35
Endless Job Opportunities with Manufacturers in the U.S.