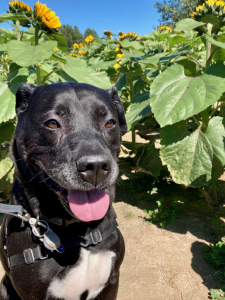 Our 11-year-old pitbull mix rescue has us well–trained. When we sit down for dinner, usually long after she ate her dinner, she walks over to the kitchen cabinet and proceeds to get our attention with short, repetitive barks. This, coupled with a head nod in the direction of the cabinet, is her way of asking for her treat. The treat, a hard biscuit inserted into her rubber toy, gives us about 3-4 minutes of peace to enjoy our dinner.
She takes her treats very seriously. So when the supply chain world, and more importantly the pet food supply chain, was impacted, she didn't care. She just kept barking while we tried to find a substitute. She did not care much for our explanation – she just wanted what she wanted.
Who's barking the loudest?
Do you have customers barking for their orders? Do they want to hear why you cannot get them their products (aka treats)? Supply chain seemed to be the universal delay excuse for everything from staffing and cash flow issues to raw materials and geopolitical unrest. The only solace is that it seemed to impact everyone. Like with COVID-19, "we were all in this together."
Yes, we understand but where's MY order?
In this together or not, customers still wanted answers and bad news was better than no news. HOW the news is delivered makes all the difference. Some companies chose to say nothing. Leaving customers frustrated and ultimately looking for alternative suppliers.
Many companies brought production back domestically, and while that sounds like a great tactic, it takes time and, you guessed it, money. The only thing more frustrating than the lack of supply was mid-stream adjustments to the price. Now the barking begins! (When they finally were back in production, my dog's treats shot up from the normal $10/bag price to $30 online.)
Empathy makes a difference
Remember Zig Ziglar, the famous sales trainer? It is more about your customer knowing you care.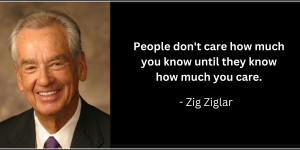 Communication, even recurring bad news, is better than silence. Also, sharing your plan and keeping your customers (and perhaps new prospects) in the loop will pay dividends in loyalty and help deepen your relationships.
The message needs to come from the top. Everyone on the team, from sales and customer service to accounting and production, needs to know the message and their role in message development and delivery. Use email, your blog, and media platforms such as editors at trade publications to tell your side of the story.
Fortunately for me and many other barking consumers, her treats are back in stock. She does not read my blog regularly but is still keen on her dinner-time treat.
Want some more tips to communicate effectively with your customers? Felber PR & Marketing has 30 years of experience in all things public relations for manufacturers. When it comes to crisis communication, having a plan ahead of time is key. Grab 15 minutes on my calendar and let's discuss how we can help you be proactive.
https://www.felberpr.com/wp-content/uploads/Felber-30th-logo-600-min.jpg
0
0
Rob Felber
https://www.felberpr.com/wp-content/uploads/Felber-30th-logo-600-min.jpg
Rob Felber
2023-07-11 14:49:00
2023-07-14 16:21:15
Explaining Supply Issues to My Dog – PR Tips for Communicating Difficult Topics to Customers