How to Host a Virtual Manufacturing Day 2020 Event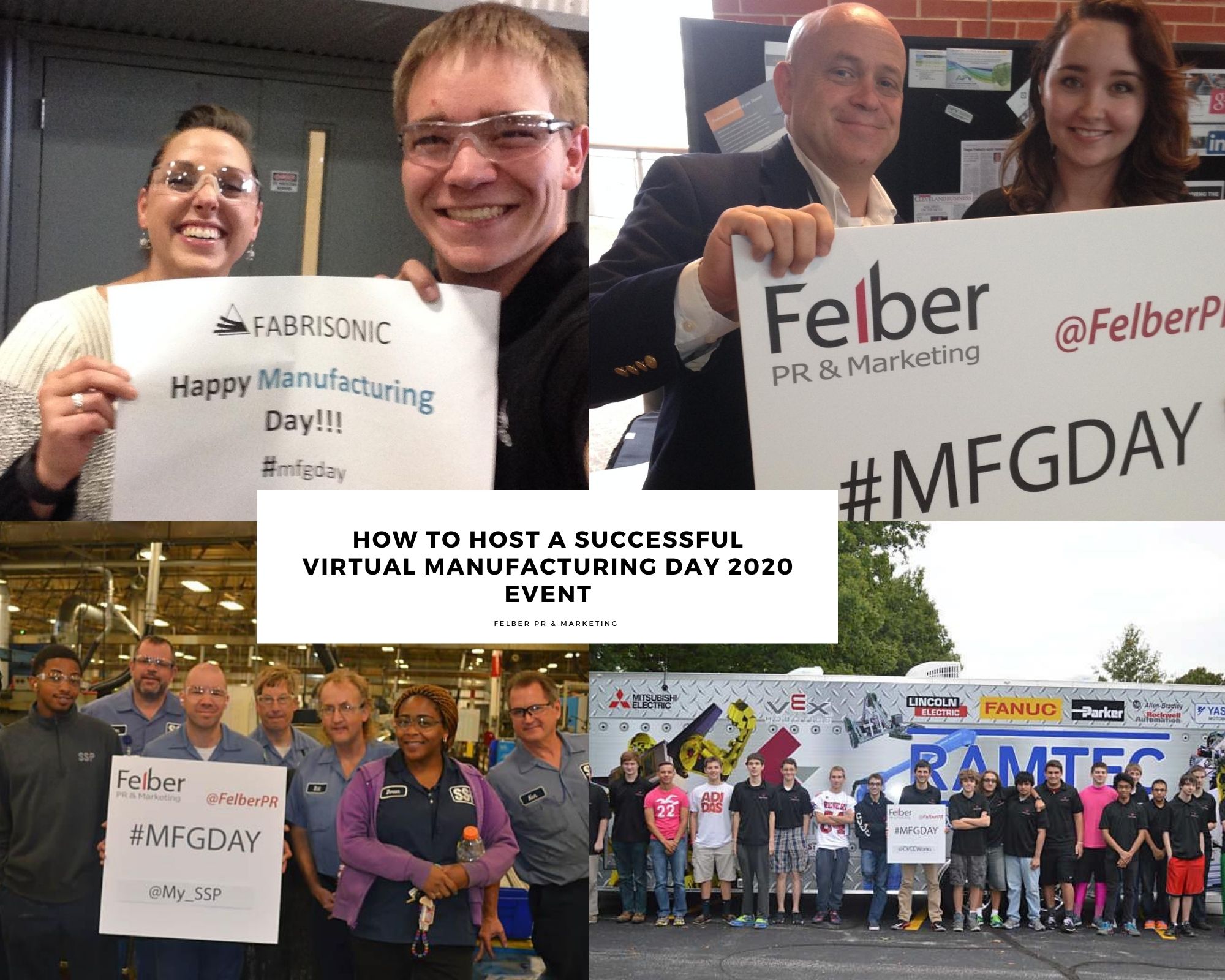 Due to limitations with public gatherings and social distancing, it's clear that manufacturers won't be able to host the on-site tours this Manufacturing Day (MFG Day) on October 2nd, 2020. However, as we have come to realize with other aspects of our daily lives during quarantine, there is always another way! 
Although there is no replacing the hands-on experience of watching a manufacturing process in person, virtual events still provide ample opportunities to connect with potential employees, engage with prospects and past customers, and increase community engagement with your company. 
What is Manufacturing Day? 
Manufacturing Day was an initiative started by The Manufacturing Institute, the workforce development and education partner of the National Association of Manufacturers (NAM) in 2012. This year it falls on October 2nd, 2020, although people host Manufacturing Day events throughout the month of October. Manufacturing Day is an annual national event that "has been designed to expand knowledge about, and improve public perceptions of manufacturing careers and manufacturing's value to the U.S. economy." 
Participants of Manufacturing Day use the hashtag #MfgDay to join the movement and support US manufacturing as a whole around the country. Popular Manufacturing Day events in the past have included plant tours, job fairs, manufacturing community events, webinars, and celebrations. If you plan a Manufacturing Day event, don't forget to register your event on the website here in order to drive participation in your event!
Why You Should Start Planning Your Virtual Event Now
While virtual events may seem easier in some ways, they come with their own complications. It is essential to have a strong digital format, a compelling topic, and your technology in order. Oftentimes, in order to draw larger event crowds, manufacturers have partnered with other organizations (which takes time and extra consideration.) The Manufacturing Institute developed a Manufacturing Day Host Toolkit. The toolkit is a guide to successful Manufacturing Day plant events which we highly recommend you review before planning your event!
Current Manufacturing Day event requirements include either:
A tour of a manufacturing facility, office, innovation center or another site

A manufacturing-related jobs fair, career day, or other student-focused events.
Manufacturing Day is also meant to be open to students, parents, or the community. While you can make it a closed event and only send the link to register to a select list of individuals, we recommend keeping the event open. Our clients have seen participation from new prospects they hadn't previously interacted with due to individuals finding their event when searching the Manufacturing Day website!
Determine the Goal of Your Manufacturing Day
When planning your Manufacturing Day event, it is important to have a clear idea of your goal for the event before getting started. The purpose of Manufacturing Day is to give the manufacturing industry visibility and inspire the next generation of manufacturers. What would your company like to achieve from the event? Would you like to develop a strong pipeline of talent? Maybe you want to engage with prospects, current customers, and past customers to show them your company's latest innovations? Perhaps, you would like to cultivate stronger community partnerships with trade school and high school guidance counselors, staffing firms, community development staff, or other manufacturers in your region that you could partner with in the future? 
Whatever your goal, highlight your strengths and have a compelling reason behind your event to attract your target audience. Also, if you are planning months in advance, think big! Invite chambers of commerce, notable city workers, local schools, prospects, and customers to attend!
Adapting Your Event for the Virtual Format
Virtual events may have some unique challenges that should be considered when planning your event. For example, a full tour of your facility could not be feasible due to your technology limitations or cost. However, developing a shorter video tour around a few product demos or hosting a virtual panel discussion with an event partner via Zoom Webinars on a great topic like automation, workforce development, or 3D printing!
With Zoom Webinars, for instance, you can add an interactive element to your event. Zoom Webinar offers the option to develop polls, interact with your audience through the Q&A tool, or utilize breakout rooms to divide your audience into smaller groups for more intimate discussions and networking. 
Also, if you are concerned about a live tour or demo, you could mix previously recorded videos with live streams to keep your audience engagement (and ensure everything runs smoothly.)
Take the Time to Research the Plethora of Technology Platforms Out There
A significant factor in planning a successful virtual event is choosing the right technology platform and performing a 'dry run' (or even better a few) before the event to ensure no hiccups happen on the day of the event. While the idea of a virtual event may seem daunting, keep in mind that pre-quarantine, many people didn't know what Zoom was and now, it is commonplace in business. There are many technology platforms available with varying complexity and cost. Confused about where to start? Ask your local chamber of commerce, trade association contacts, or fellow manufacturing owners what video platform they recommend. 
Manufacturing Day is a great way to showcase your company and what makes you special. There are many ways your company can stand out during this virtual celebration of manufacturing including plant tours, job fairs, and manufacturing celebration events. For more information on Manufacturing Day visit www.mfgday.com or to discuss event ideas, email robfelber@felberpr.com
https://www.felberpr.com/wp-content/uploads/Felber-30th-logo-600-min.jpg
0
0
Rob Felber
https://www.felberpr.com/wp-content/uploads/Felber-30th-logo-600-min.jpg
Rob Felber
2020-08-25 13:25:32
2020-08-27 10:37:36
How to Host a Virtual Manufacturing Day 2020 Event