Why You Need StrengthsFinder for Employee Engagement
During college — a time when myself and my peers were trying to "find" themselves and realize their true career potential — I was required to take an online personality assessment in my senior capstone, called StrenghtsFinder. Over the years, I'd taken a fair amount of these personality assessments– Myers Briggs, The Five Love Languages, The Colors Tests, you name it. Although I enjoyed taking personality assessments, I always felt like they told me what I already knew about myself. To my surprise, StrengthsFinder was entirely different and allowed me to view myself in an entirely different light. It was by far the most valuable book I read during my college career and is one that has helped me tremendously, both personally and professionally. Below are the top 5 reasons you and your colleagues should take the Strengthsfinder assessment.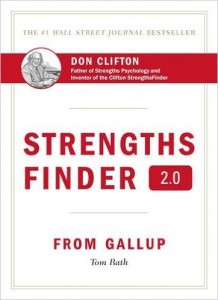 Focuses on Talents Not Tendencies

– StrengthsFinder, was developed by Gallup's team of scientists and positive psychologists to help people "uncover and develop their natural talents."  

While it's an assessment you can take in 10-15 minutes and a book you can read in one sitting, it is a tool that you can use for years to come. Most personality focuses on your personality tendencies (introverted/extroverted, thinker/feeler.) This assessment is different because instead of focusing on your basic personality traits, it focuses on what makes you unique and special. Once you take the assessment, it will list your top 5 strengths in order (Gallup has identified 34 strengths.) The assessment not only focuses on "typical strengths" like "analytical" or "communication" but also on strengths most people don't focus on in work and educational settings (ex: one of my strengths is "Positivity", something I never viewed as a "strength".
2. Teaches You How to Maximize Your Strengths– Even for the person who feels like they have a strong understanding of who they are, Strengthsfinder gives people the validation that they are exceptionally great at something and also gives suggestions on how people can hone in on their strengths and work to their fullest potential. Once you take the test, I highly suggest you take it a step further and read StrenghtsFinder 2.0. In the book you'll find:
Your top five theme report, built around the Strengths Insight descriptions

50 Ideas for Action (10 for each of your top five themes) based on thousands of best-practice suggestions we reviewed

A Strengths Discovery Activity that helps you think about how your talents, investment, experience, skills, and knowledge work together to build strengths

A Strength-Based Action Plan for setting specific goals for building and applying your strengths in the next week, month, and year
3. Gives You Focus to Reach Your Full Potential– Traditionally, we've been taught that if we work really hard, we can do better at anything. While I truly believe in the power of hard work, it is obvious that some people have certain aptitudes that others don't. For example, I could try my hardest to improve my basketball skills. I could practice every day, I could join a team, I could get one-on-one practice sessions in with a coach, and I could practice my free throws every single day. I would improve but I will never have a WNBA player level of talent. Instead, it's much better for me to focus on my unique skillset and bring my strengths to the table, in both my personal life and in the workplace.
4. Stronger Team Building and Camaraderie– Strengthsfinder is an excellent tool for team building. It is great not only for staff to take on the individual level to learn their own individual strengths, but it also an extremely beneficial tool for management and allows you to see the strengths and potential in your team.  I suggest everyone take the test prior to reading the Strengthsfinder book and then read up on their specific strengths, learn them inside and out. Then, I suggest management read about all the other strengths in the book. Yes, you only get 5 top strengths but there are 34 uniques strengths in the book that your co-workers or employees may possess. Learning about the other strengths allows you to better identify other people's potential and work better with and assign projects that people will thrive doing and be happy doing.
5. Happier Employees Leads to a Stronger, More Productive Workplace
According to a study by University of Warwick Centre for Competitive Advantage in the Global Economy, happier employees are more productive. The experiment showed that productivity increased by an average of 12% when they were happy. The study stated opportunities, professional growth, and recognition at the workplace as some of the main factors in overall employee happiness. Strengthsfinder is an excellent stepping stone to give employees the recognition they deserve and opportunities to grow in their careers.
Allie's Strengths
Achiever

Learner

Input

Individualization

Positivity
Rob's Strengths
Empathy

Responsibility

Restorative

Arranger

Woo
https://www.felberpr.com/wp-content/uploads/Felber-30th-logo-600-min.jpg
0
0
Rob Felber
https://www.felberpr.com/wp-content/uploads/Felber-30th-logo-600-min.jpg
Rob Felber
2016-07-02 10:19:23
2016-10-07 14:58:24
Why You Need StrengthsFinder for Employee Engagement