Top Tips for Cold-Calling Prospects on Your Website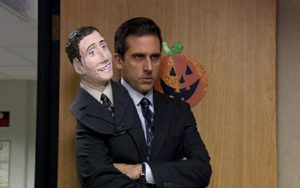 Creepy Crawlers on Your Website or Your Next Sale?
The scary sales call is not just for Halloween..
Let's face it, technology from George Orwell's 1984 is alive and well on Halloween 2016. We're a mobile society; we buy stuff with one click from Amazon and react when online retailers offer other products to go with the one we just purchased. So, why would we not want the technology to help business to business manufacturers? Yes, the "sale" is different and the cycle may be dramatically longer; but, the relationship needs to start somewhere.
When we see visitors to our website it's now more data than the anonymous IP address traffic of the past. We see what pages they visited, what content they downloaded and just as important, who they are and the company they represent.
So, is it creepy to call immediately or really good proactive sales? If I was lost on a city block and someone offered to direct me, I would be grateful.  The same goes in searching for a solution for your business or a new product. People want information and to come up with a solution as soon as possible.  This is why you should call your possible prospect while they are actively searching for answers. Manufacturers work hard to attract visitors and hopefully future customers to their website. We use many tools, from search engine optimization and keywords to public relations and email marketing to attract qualified traffic. When they arrive, they should get a warm greeting.
Are you concerned your prospect will find your call creepy or be amazed at your use of technology? When making the call, we find it easy to quickly dispel this concern and address it head on.
If communicated with humor, an introduction like this example quickly melts the ice.
"Hello Mary, I hope this isn't too creepy — I saw that you were visiting our website and thought I would give you a call to address any questions you might have. What were you looking for help with?"
Our experience is your prospect will laugh, but then quickly discuss what they were looking for when they found your website. Take the leap, call your prospect and do it today – within minutes of their visit.
Have fun selling!
https://www.felberpr.com/wp-content/uploads/Felber-30th-logo-600-min.jpg
0
0
Rob Felber
https://www.felberpr.com/wp-content/uploads/Felber-30th-logo-600-min.jpg
Rob Felber
2016-10-31 17:06:56
2016-11-01 17:41:01
Top Tips for Cold-Calling Prospects on Your Website