Understanding the Ins and Outs of the NEW Google Analytics 4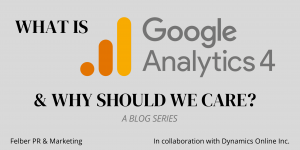 Unless you've been living under a rock, or perhaps procrastinating, you have probably heard about the new Google Analytics 4, aka GA4. If you've logged into your Google Analytics account recently, you probably saw the doomsday-like countdown clock warning that your account will stop processing data starting July 1, 2023. This is the date that GA4 launches across all Google Analytics accounts.
While completing the GA4 migration for our own website and our client's sites, we've come across a ton of questions and confusion around what exactly GA4 is and why we should care. To provide answers, we teamed up with Keren Johnson, Digital Marketing Manager at Dynamics Online, Inc.  Special thanks to Keren for authoring this guest blog and shedding some light on the latest Google update.
In today's age of digital marketing, understanding and analyzing data is key to success. Google Analytics has been the go-to tool for business owners, managers, and marketers for analyzing website data and online user behavior for over a decade. Recently, Google introduced the newest version of its analytics software: Google Analytics 4. In this article, we'll break down the specifics of GA4, discuss how it differs from previous versions, and explain how it can help improve your businesses.
The evolution of Google Analytics
Before we dive into what's new in Google Analytics 4, it's worth understanding the evolution of this powerful tool. Google Analytics was first introduced in 2005, and since then has undergone various updates and enhancements. The second version, Universal Analytics, was introduced in 2012 and has been the primary version used by businesses of all sizes. However, with advancements in technology and data privacy concerns, GA4 was built with these concerns in mind.
Key differences between Google Analytics 4 and Universal Analytics
One of the biggest differences between the two versions is the way that they track user behavior. GA4 uses an events-based model, which keeps track of user interactions with your website or app. This allows businesses to gain a more comprehensive understanding of user actions, including clicking on buttons, filling out forms, and scrolling through pages. Another key difference is the way that improvements have been made to machine learning and predictive analytics technology. GA4 uses Google's advanced machine learning algorithms that can provide more detailed insights into customer behavior and preferences.
Understanding the benefits of GA4
Google Analytics 4 comes with a host of benefits for businesses and marketers alike. As we mentioned earlier, events-based tracking allows companies to track user behavior more accurately. Also, machine learning models give marketers the ability to find unexpected insights from their data, leading to personalized experiences for customers and increased conversion rates. Machine learning technology also presents a new way of predicting consumer behavior and identifying potential customers. Additionally, a new integration process has made it easier than ever for businesses to integrate GA4 into their existing advertising stacks.
Getting started with Google Analytics 4
To get started with GA4, businesses need to create a new property in their account. Once the property is created, you can install tracking on your website or app and start collecting data. One of the key features of GA4 is that it automatically tracks user interactions with buttons, forms, and media, eliminating the need to set up individual event tracking. Setting up custom data streams can also help provide a detailed understanding of your consumers' behaviors.
The Future of GA4
One of the most exciting aspects of GA4 is how it sets the foundation for future advancements. Google has not released a comprehensive list of features they plan to add in the future, but there are already hints of what's to come. One can anticipate more extensive integration with Google Ads and the advanced use of artificial intelligence, machine learning and big data analytics. Expect to have AI as a valuable tool to derive actionable insights from large data sets.
In conclusion, Google Analytics 4 is a game-changing update to an already powerful analytics tool. With machine learning and predictive analytics, companies have access to insights that were previously impossible to achieve. With simplified tracking and customization, GA4 has made it easier than ever for businesses of all sizes to track their website and app performance. As data continues to play a critical role in the success of businesses, GA4 is the perfect tool to help you stay ahead. Schedule a 15-minute consultation and let's discuss migrating your website to GA4.
If you have questions about GA4 or you'd like to learn more please click here, or contact RobFelber@felberpr.com, (330) 963-3664.
UP NEXT in part II of this blog:  Why You Can't Afford to Miss Out on Migrating to Google Analytics 4
About the Author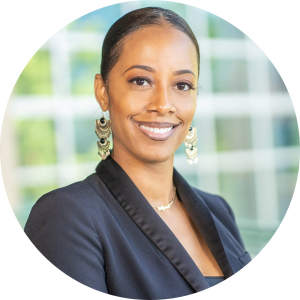 Keren Johnson is a Digital Marketing professional who brings her clients strategic and thoughtful solutions to enhance their online presence. After graduating from Cleveland State University, Keren began her career doing Digital Marketing and Social Media Strategy for Tremco Roofing. Since leaving Tremco, Keren has sharpened her skills working for organizations such as the United Church of Christ, Fairfax Place Nursing Facility, Cleveland Municipal Housing Court, and Hathaway Brown School. In addition to her expertise in social media strategy and management, Keren specializes in Search Engine Optimization, Search Engine Advertising, Blogging, and Content Marketing.
In addition to her skill set as a marketer, Keren also owns a successful art business (1384 Designs), where she designs and sells custom laser cut and engraved art.  In Keren's spare time, she enjoys reading, spending time with friends, and playing board games. Keren is a proud Shaker Heights native and currently resides in Euclid, Ohio, with her fiancé, Matthew, and two children, Alyssa and Phoenyx.
Keren@DynamicsUS.com  |  216-292-4410 Ext. 4
https://www.felberpr.com/wp-content/uploads/Felber-30th-logo-600-min.jpg
0
0
Zoe Blank
https://www.felberpr.com/wp-content/uploads/Felber-30th-logo-600-min.jpg
Zoe Blank
2023-06-13 14:42:52
2023-06-13 15:45:22
Understanding the Ins and Outs of the NEW Google Analytics 4