Will Manufacturing Lead the Way?
How Manufacturers have traditionally recovered from recessions
Written by: Madilyn Movsesian – Marketing Intern
Since the Covid-19 outbreak in March of 2020, there has been a worldwide crisis amongst manufacturers. Like many other industries, manufacturers have been working tirelessly to conform to the new normal. Kristen Fowler for Forbes magazine states, "historic data demonstrates that manufacturing has borne the brunt of the financial damage in past U.S. recessions," meaning that manufacturing has had the worst financial impact. As the world works to get back to normal and better the economy, the manufacturing industry is facing high levels of demand while simultaneously battling decreases in production in certain areas. 
The manufacturing industry can lead the world out of another recession due to the fact that the industry is one of the first to recover from previous downfalls. Kristen Fowler also writes, "between the early 2000s recession and the Great Recession industrial manufacturers experienced 300% higher recoveries in corporate profits." This large increase was one of the factors that led our country out of the recession. In 2021, the manufacturing industry is hoping for the same results in order to get back on its feet. In order for this to happen, manufacturers need to meet global supply chain needs and have a strong employee base. As we discussed in our recent blog, Endless Job Opportunities with Manufacturers in the U.S., there are many tactics manufacturers can use in order to attract more employees. 
The global supply chain issues that have surfaced from Covid-19 are ones that manufacturers will have to overcome in order to recover. Everywhere around the world products are being delayed due to the fact that there are shortages of workers and raw materials. It is crucial to weigh your options and possible alternatives in order to meet the demand of consumers. Fowler writes in response to the initial Covid-19 shockwaves, "by devoting new resources and energy to building supply chains, manufacturers will drive economic growth in communities while mitigating the risk of international disruptions," as a manufacturing company it is critical to have a defined response to supply chain issues.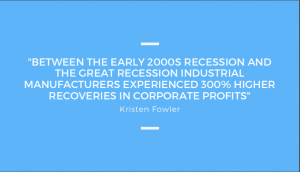 The manufacturing industry faced the lowest employment levels after Covid-19 surfaced. It is crucial to have a hiring method that will attract employees and meet the economic needs of production. Rapid hiring of quality employees will lead the manufacturing industry to success. To overcome the challenges created by Covid, manufacturers need to confront the supply chain and hiring shortage that is in today's current society. 
Interested in learning more about this tactic and how to further engage your prospects and customers? Call Rob Felber (330) 963-3664 or email RobFelber@felberpr.com 
https://www.felberpr.com/wp-content/uploads/Felber-30th-logo-600-min.jpg
0
0
Rob Felber
https://www.felberpr.com/wp-content/uploads/Felber-30th-logo-600-min.jpg
Rob Felber
2021-07-22 14:52:58
2021-07-22 14:54:07
Will Manufacturing Lead the Way?