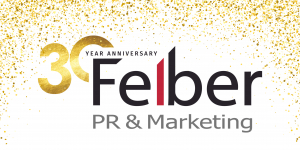 Party like it's 1993… with your Sony (radio) Walkman for $29.98, listening to redneck humor from Jeff Foxworthy and obsessing about finding the hottest Beanie Babies. Yes, that was 1993, and the founding year of Felber Public Relations and Marketing. 
In recollection, it was more like rubbing two nickels together, driving through downtown Cleveland in my 5-speed Chevy Cavalier with practically no heat, parking in the snow and walking blocks to pitch our services to prospects. I was thrilled if my pager went off indicating I had voicemail which meant I'd be looking all over the city for a payphone and quarters to hear that precious message.
I can hardly believe 2023 is our 30th anniversary! I still get excited about client voicemails. I no longer carry rolls of quarters. However, I do regret letting the dog chew up those collectible Beanie Babies. If you are one of those precious customers who have supported us for the past 30 years, thank you!
In January, we will start our year-long review of PR and marketing through the decades and the evolution of our company. You might even see a throwback to one of your own promotions or campaign from those early years. 
While "Jurassic Park" and "Mrs. Doubtfire" were the box office favorites, your PR and marketing campaigns were the lifeblood of our company that kept us from going extinct. Together we grew, became friends, and learned how to "get mail" and pronounce GIF. On top of the billboard charts was "I Will Always Love You" by Whitney Houston. We are immeasurably grateful and we, too, will always love you and our journey together through the last three decades.
Subscribe to our blog so you don't miss our monthly 30th Anniversary series!
https://www.felberpr.com/wp-content/uploads/Felber-30th-logo-600-min.jpg
0
0
Rob Felber
https://www.felberpr.com/wp-content/uploads/Felber-30th-logo-600-min.jpg
Rob Felber
2022-12-19 13:25:21
2023-01-06 13:27:25
Felber PR & Marketing is Celebrating 30 Years!