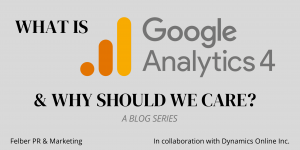 By now, you've probably heard about the new Google Analytics 4, aka GA4. If you've logged into your Google Analytics account recently, you probably saw the doomsday-like countdown clock warning that your account will stop processing data starting July 1, 2023. That means there are less than 10 days until GA4 launches across all Google Analytics accounts.
But what is Google Analytics 4 and why should we care?
While completing the GA4 migration for our own website and our client's sites, we've come across a ton of questions and confusion around what exactly GA4 is and why we should care. To provide answers, we teamed up with Keren Johnson, Digital Marketing Manager at Dynamics Online, Inc.  Special thanks to Keren for authoring this guest blog and shedding some light on the latest Google update. If you haven't already, check out part 1 of this GA4 blog series: Understanding the Ins and Outs of the NEW Google Analytics 4
Being a business owner or manager, you understand the importance of collecting accurate information when it comes to making data-driven decisions. Google Analytics (GA) has been an effective tool for tracking website traffic since its inception. However, after sixteen years, Google has rolled out the new update – Google Analytics 4 (GA4) – which is a significant leap from the current version. While you have until July 1, 2023, to migrate to GA4, it is vital to understand the consequences of not making the shift.
Stagnant Data Collection
After July 1, 2023, GA will no longer support the existing version of Google Analytics. This means that the current version of GA will no longer process data. You'll have access to historical data, but new data will only populate into Google Analytics 4 properties. The previously processed data collected through the current version of GA will continue to be available but only for a limited time. Additionally, if you use platforms like HubSpot, Salesforce or Marketo for analytics and website traffic reporting, you must migrate to GA4 or you will lose the analytic data imported from Google Analytics. 
If you do not migrate to Google Analytics 4, you will miss out on the new features that come with GA4: cross-device tracking, event measurement, and machine learning. Imagine collecting half-baked, irrelevant data, and making a crucial business decision based on it. That will be your reality come July 1 if you fail to migrate to GA4.
Wasted Resources
Failing to migrate to GA4 will result in a missed opportunity to utilize the latest analytical tools. Additionally, you may invest resources, like time and money, in developing reports and dashboards, or creating complex analytics architecture that will become obsolete. The cost of developing a new system from scratch can lead to a waste of time, resources, and money.
Obsolete Insights
Google has been adjusting its Search Algorithm since day one. The move from GA to GA4 is Google's way of staying ahead of the curve and providing businesses with a more robust analytical tool. By not migrating to GA4, you will be unable to leverage new insights gained from the latest tools. Failing to adapt may lead to sub-optimal decision-making, leading to lost opportunities for your business.
Improved Business Growth
Ultimately, the new features of GA4 will provide you with better insights and help you make informed data-driven decisions. The ability to track cross-device conversion and store offline conversion data is invaluable information that you will miss out on by not upgrading. Don't be left behind; upgrading to GA4 will enable your business to make informed decisions that can drive business growth.
In conclusion, the consequences of not migrating to GA4 go beyond losing access to data – it is a strategic move that can help you stay ahead of your competition. Failing to upgrade can result in stagnated insights, missed opportunities, and wasted resources. With that said, it's crucial to begin the migration process today. Take advantage of the advanced features offered by GA4 to scale your business. Don't wait until the last minute to get started on this critical business move. Schedule a 15-minute consultation today and let's discuss migrating your website to GA4 before July 1, 2023.
Navigating change can be difficult, and we understand you may have questions about how GA4 migration could impact your business specifically. We are happy to help. If you have questions about GA4 or you'd like to learn more please click here, or contact RobFelber@felberpr.com, (330) 963-3664.
About the Author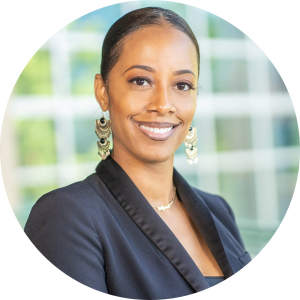 Keren Johnson is a Digital Marketing professional who brings her clients strategic and thoughtful solutions to enhance their online presence. After graduating from Cleveland State University, Keren began her career doing Digital Marketing and Social Media Strategy for Tremco Roofing. Since leaving Tremco, Keren has sharpened her skills working for organizations such as the United Church of Christ, Fairfax Place Nursing Facility, Cleveland Municipal Housing Court, and Hathaway Brown School. In addition to her expertise in social media strategy and management, Keren specializes in Search Engine Optimization, Search Engine Advertising, Blogging, and Content Marketing.
In addition to her skill set as a marketer, Keren also owns a successful art business (1384 Designs), where she designs and sells custom laser cut and engraved art.  In Keren's spare time, she enjoys reading, spending time with friends, and playing board games. Keren is a proud Shaker Heights native and currently resides in Euclid, Ohio, with her fiancé, Matthew, and two children, Alyssa and Phoenyx.
Keren@DynamicsUS.com  |  216-292-4410 Ext. 4
https://www.felberpr.com/wp-content/uploads/Felber-30th-logo-600-min.jpg
0
0
Zoe Blank
https://www.felberpr.com/wp-content/uploads/Felber-30th-logo-600-min.jpg
Zoe Blank
2023-06-22 10:19:51
2023-06-22 10:31:16
Why You Can't Afford to Miss Out on Migrating to Google Analytics 4