3 Manufacturing LinkedIn Posts That Drive Engagement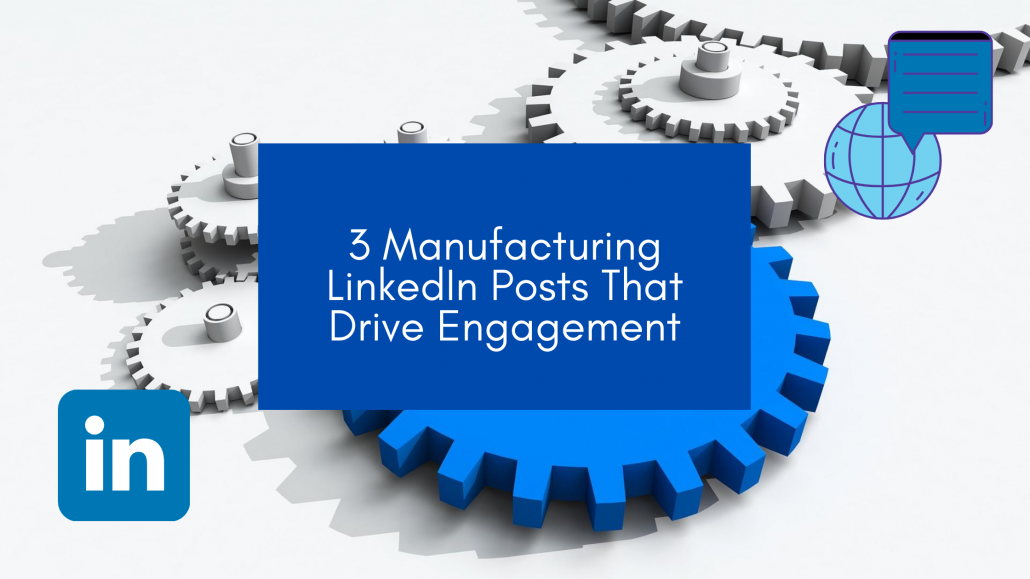 LinkedIn has more than 575 million users and provides manufacturing salespeople an incredible opportunity to share their voice, harness the power of content, and improve both their personal brand and company reputation. Often we are asked, "What should I post on LinkedIn?" Below, learn 3 styles of manufacturing-focused posts that you should utilize on your LinkedIn profile with some stellar real-life examples from manufacturers we admire!
Strong Manufacturing Post #1– The Interactive Experience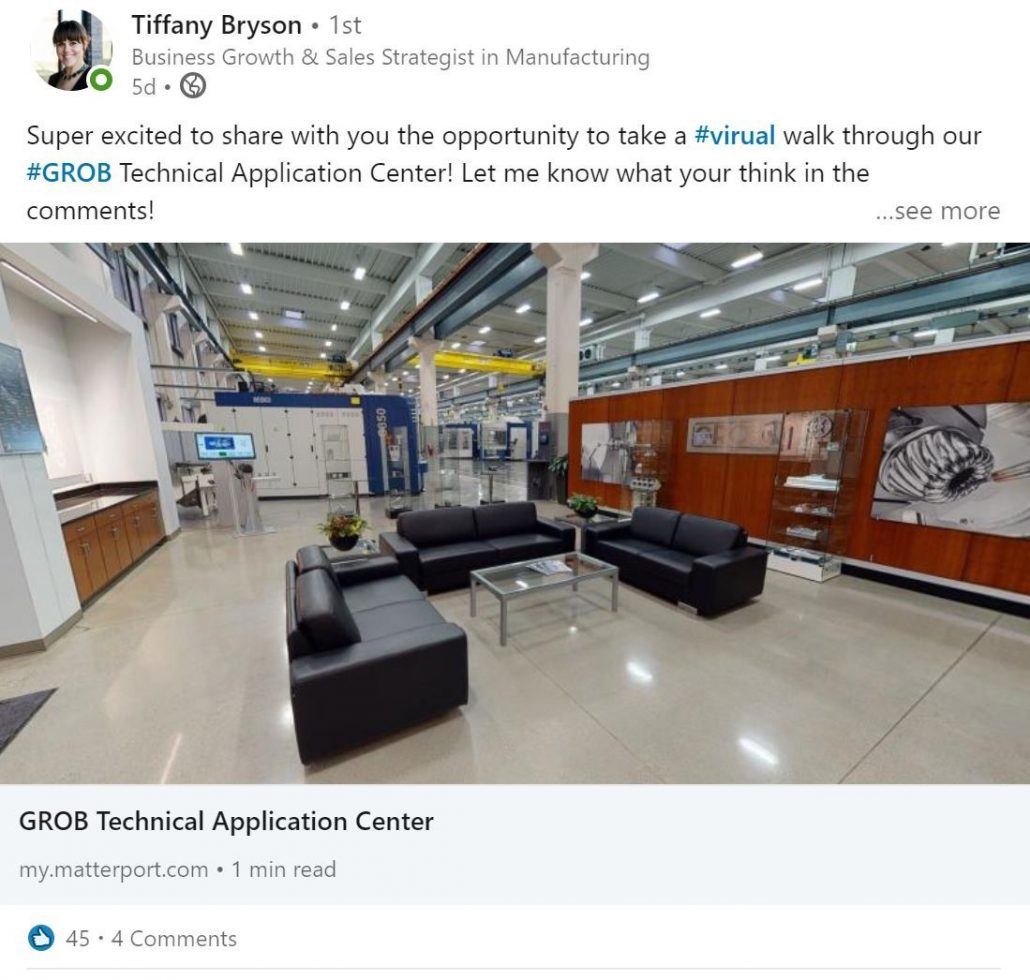 Tiffany Bryson, Direct Regional Sales Manager at Grob Systems, Inc. does an excellent job of providing value to her followers on LinkedIn.
The post above is an excellent example of an engaging post because:
It's interactive, offering a virtual plant tour.
It's educational.
Comments and engagement are encouraged!
Providing your audience with a virtual tour is an excellent way to give them a peek behind the curtain of your processes, products, and innovative plant. Don't have the budget for a virtual tour? No worries. Consider utilizing shorter videos of a unique process or area of your business and then, as Tiffany did, ask people to comment on what they learned!

Strong Manufacturing Post #2– Take a Stand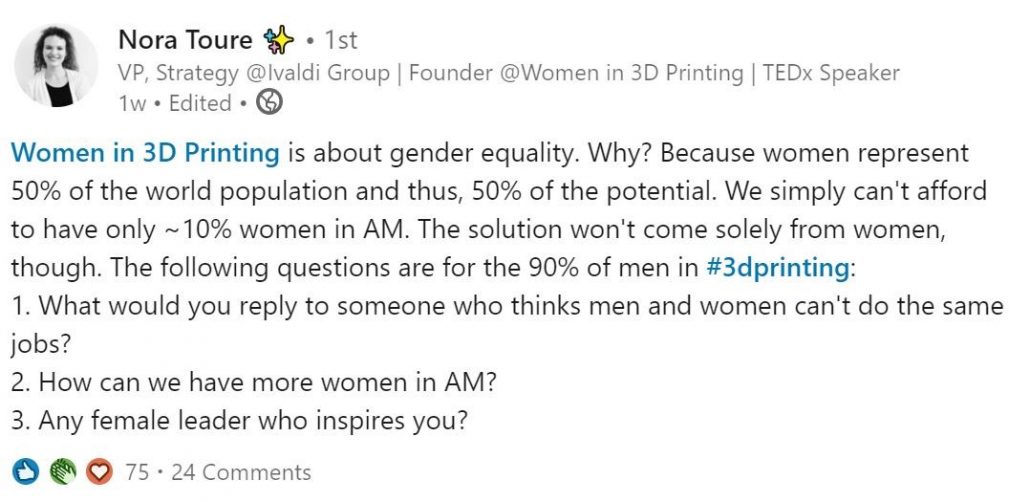 Nora Toure, founder of Women in 3D Printing, is a LinkedIn powerhouse (that you definitely should follow!)
This post is an excellent example of taking audience interaction to the next level because:
It takes a stand about an important issue.
It makes you think about ways to take action and find a solution.
It encourages engagement with 3 thought-provoking questions.
Nora's post is a great example of taking a strong stance on an industry issue in a respectful way. She stated the facts about the lack of women in her industry and implored her audience to help find a solution. Also, we love that instead of simply asking for suggestions on how to address the problem, she took it a step further by asking 3 thought-provoking questions. Clearly, as you can see from the screenshot, she had a considerable engagement on this post, and this screenshot was taken only 1 week after this post went live. We continued to see it on our feeds for over a month and the engagement continued to rise.
Don't be afraid to share your thoughts on LinkedIn (as long as your post isn't overtly political or religious, you're fine!) Reshoring, the manufacturing talent gap, and the manufacturing supply chain amid COVID-19 are 3 different examples of current hot topics that you could take a stand on in a LinkedIn post. Also, consider using Nora's 3 question approach on your future posts to encourage audience comments!
Strong Manufacturing Post #3– Problem & Solution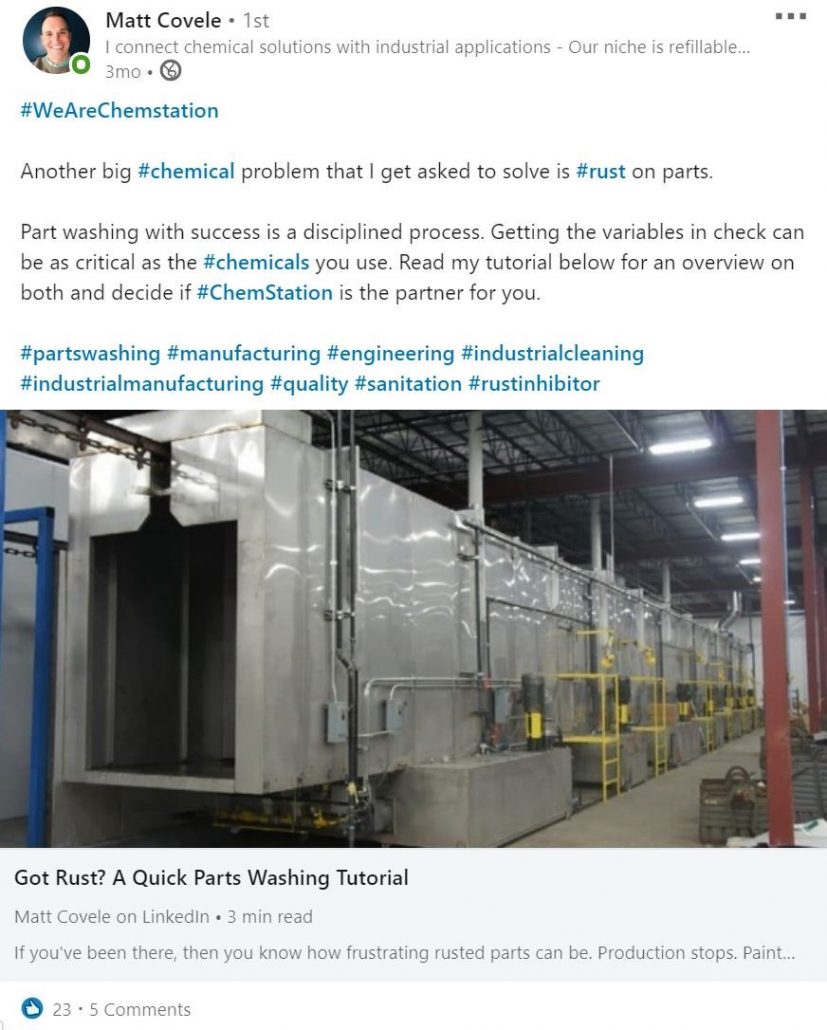 Matt Covele, Senior Sales Representative at ChemStation, does an excellent job of listening to the feedback and questions of his customers and then utilizing it as LinkedIn content.
Matt's post is an excellent customer-focused example because:
It addresses and answers a commonly asked customer question.
It showcases Matt and his team's expertise in a helpful and non-salesy way.
It links to a LinkedIn Pulse article Matt wrote which is an excellent tactic to get his blog read by other LinkedIn users that could utilize his services.
Matt does an incredible job of educating his audience and building a relationship through trust. Instead of posting salesy content about why his company is the best, he chose to write from the perspective of his customers and address a common customer issue and how to fix it. We also love that he utilized LinkedIn Pulse to share this information.
If you have expertise in a certain area, we suggest writing a Pulse post, which is essentially LinkedIn's version of articles, that can be self-published by members. 500-750 words are the perfect word count. Any more than that and your connections won't read on.
By using appropriate keywords and hashtags, you can attract a much larger audience to your Pulse article, your personal LinkedIn page, and the company page. Recently the president of Felber PR & Marketing, Rob Felber wrote a Pulse post and the majority of his readers were 2nd connections! So it just goes to show that Pulse is a great way to expand your audience and build credibility and respect in your industry.
Struggling with what to write your first Pulse article about? We suggest you review social media and website form first. Look for themes of commonly asked questions and if you don't already have content that addresses it, write it!
Interested in learning more about LinkedIn strategy. We recently launched our Leveraging LinkedIn 2.0 eBook, which will teach you everything from optimizing your LinkedIn profile to growing your network, and sales strategies. The eBook also includes helpful templates to help you along the way!
Related blogs:
5 Unique Ways to Prospect on LinkedIn
How to Create a Successful LinkedIn Content Marketing Strategy
How to Export Contacts from LinkedIn for Ultimate Sales Opportunities
https://www.felberpr.com/wp-content/uploads/Felber-30th-logo-600-min.jpg
0
0
Rob Felber
https://www.felberpr.com/wp-content/uploads/Felber-30th-logo-600-min.jpg
Rob Felber
2020-10-29 10:34:25
2020-10-29 10:34:25
3 Manufacturing LinkedIn Posts That Drive Engagement