5 Tips to Engage Visitors BEFORE and DURING Trade Shows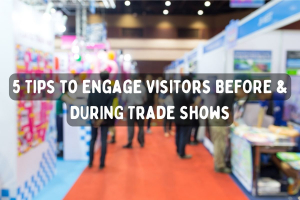 So you're headed to IMTS 22 (the International Manufacturing Technology Show)? It's time to think about attracting and engaging visitors. You don't want to be lost in a sea of trade show booths, so what is the best way to draw visitors away from the competition and toward your business?
1. Invite and utilize your existing connections.
Trade shows can be a great way to interact with your current and potential connections. In fact, 79% of attendees believe going to a trade show helps them decide what to buy. (Source: Graphicolor Exhibits) Before the event, send an email to your current contacts and invite them to visit your booth. Be sure to include information about where to find your trade show booth and what they can expect from your exhibit. If they attend, interacting face-to-face is an excellent opportunity to network, make connections and share mutually beneficial contacts.
2. Research and connect with the media.
Having a great trade show booth is useless if you have few attendees and visitors. A great way to ensure you're spreading the word about your exhibit is to get the manufacturing trade press involved. Do some research about what media outlets will be present at the show and reach out to your industry bloggers, influencers, journalists, and trade publications. It's the perfect way to invite prospects, share exciting news or product launches, and promote your business before the trade show. Also, invite these journalists to your booth for one-on-one interviews. Taking the time to invest in advertising and press involvement could secure you more trade show booth visitors and viable leads.
3. Promote your exhibit on social media.
People from every industry are on social media, and these platforms can be a great way to promote your upcoming trade exhibitions. 61% of businesses use social media to promote their attendance at an upcoming trade show. (Source: Brandon Gaille) You should schedule social media posts to go out before and during the show to promote your booth and attract attendees. Don't forget to include information about any presentations, product demos, or contests you're hosting during the show. Scheduling the posts ahead of time will relieve some pressure and give you one less thing to worry about during the event. Building excitement online in the weeks leading up to the show will attract prospects to the trade show and encourage them to stop by your booth.
Posting to social media live during the show is also a good idea so you can share your booth location and pictures of your exhibit. If your current contacts or followers are at the show, they will know where to find you and what to expect. Lastly, check the show's website for their social media and any hashtags to maximize impact.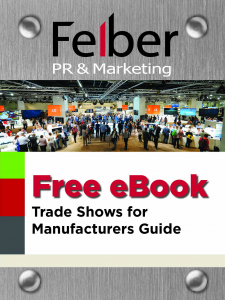 4. Nail your booth design.
Attracting prospects to the trade show is just one step. To generate leads, you've got to get them to engage with your exhibit during the show. The design of your booth is crucial for making a lasting first impression and drawing attendees to you. If you want to stand out among the other exhibitors your display should include engaging and interactive elements that make the encounter with your business fun. 74% of attendees believe engaging with the exhibitors makes them more likely to buy the products/services on display. (Source: Hill & Partners)
You can use photos and videos to draw the eyes of attendees to your booth. Touch screens and tablets can be used to collect contact information from visitors which will help you follow up after the show is over. Surveys and quizzes are another great way to get your booth visitors engaged and inform them of what your business has to offer. 92% of attendees visit a trade show to learn about new and exciting products and services. (Source: SpinGo)
Everyone loves gifts and freebies. Organizing a contest or giveaway can be an excellent way to capture prospects' attention and leave a lasting impression. Consider giving away branded merchandise, swag bags, or even food and drinks. 
Using a company mascot is one of the most fun and effective ways to draw attention to your exhibit. A mascot will make your trade show booth unmissable and provide a fun photo-op for visitors to share on social media.
5. Don't attack, attract.
No one likes to be bombarded by salespeople, especially as you walk by every booth at a trade show. Stopping uninterested people as they walk by and pushing them to look at what's on sale is not the best approach at trade shows. A better strategy is to attract them to you and your exhibit. But a great display is only the first step. You should make sure that your trade show staff is knowledgeable, personable and engaging. 85% of an exhibitor's success at a trade show is dependent on the performance of the staff they bring. (Source: Highway 85 Creative)
When a visitor approaches your booth, it means they are interested in what you have to offer, so it's important to have the first person from your staff there to help. Dressing professional and wearing company logo apparel is a must for making sure your staff is easily identifiable among the crowds. You should be sure that your booth provides its visitors with valuable information that is easily digestible and useful to them. Consider using presentations and product demonstrations to draw people in without having to attack them as they walk by.
For tips on your next step after the show, read our blog The Trade Show is Over – Now What?
Need more help? Download our Trade Shows for Manufacturers Guide or contact Rob Felber at RobFelber@FelberPR.com, (330) 963-3664.
https://www.felberpr.com/wp-content/uploads/Felber-30th-logo-600-min.jpg
0
0
Zoe Blank
https://www.felberpr.com/wp-content/uploads/Felber-30th-logo-600-min.jpg
Zoe Blank
2022-08-02 16:38:29
2022-08-03 10:40:42
5 Tips to Engage Visitors BEFORE and DURING Trade Shows