Capitalize on Trade Show Chatter, Before, During and After the Show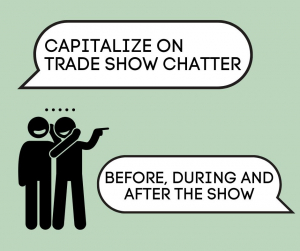 You have a lot to do before a trade show! While promoting your trade show presence ahead of time by having a killer booth design with engaging displays, maybe offering some swag, and setting up meetings with media connections who will be in attendance are all critical to having a successful show, there are other behind-the-scenes tasks you'll want to handle before you leave.
5 Tips to engage visitors before and during a trade show
What to Do ASAP before the Trade Show
Huddle with your team. Make sure everyone inside your organization knows that your company is attending! Let your vendors know, too. Pre-show chatter with your employees and vendors isn't just good "internal PR," it helps your sales and customer service reps hone their presentation. And of course, no one knows your company and its products better than the people who make them. Their suggestions will make your trade show presentation better and post-show lead follow-up more productive.
Develop and practice talking points for in-person interactions. You don't want to sound like a well-rehearsed actor, but you should practice some natural talking points around features and competitive advantages, and be prepared to answer all of the questions you expect to be asked at the show.
Trade Show Prep, Two Weeks Before the Show
Warm up the crowd with pre-show messaging: make sure your pre-show "chatter" includes all the pertinent hashtags and that your social media posts include @mentions of other attendees and exhibitors as appropriate. Try to engage your audience with questions and polls, and remember to share your booth number and images of your booth graphics in those posts. 
Review the attendee and exhibitor list. Data collection begins NOW!  
Review and update your lead generation form to ensure that it reflects your most current offerings. Also ask yourself, will it resonate with the prospects you're most likely to see at the show? 
It should go without saying, but we'll say it: test the lead gen form and your automated responses.
Not sure how to do that? We can help.
The Week Before the Trade Show: Ready to Go? 
Update your live chat popup box with a teaser like, "Want to chat at the show? Let us know when you'll be there!" And we'll say it again: test that updated chat window. 
Schedule a designated person (or two) who will be available for live chats both during the show and for three- to 10 days after it's over. 
Give them a script or bullet list of answers to the FAQs you anticipate (based on show reps' experience at the booth) and try to end all responses with a question, like "can we prepare a quote for you?" or the generic but effective, "is there anything else you have questions about?" 

Commit to responding to all chat requests and inquiries within 12 hours. Twenty-four hours is long enough for a "hot" lead to cool off (or reach a competitor). 

Why should you prepare for trade show leads to respond up to 10 days after a show? Because like you, trade show attendees will have a lot to unpack – literally and figuratively. And because different trade show leads will enter your funnel at different points in the sales process. 
We'll discuss what to do with those leads in a future post. Can't wait? Contact us!
Game Day: During the Trade Show 
Collect intel, both on other companies in your space and from your prospects. Not sure how to effectively collect info from leads? We help our clients pre-qualify leads and categorize prospects efficiently so you can maximize those face-to-face interactions and be ready to follow up as soon as you return from the show. 
Keep communication channels open. Just as important as connecting with potential buyers on a personal level, communicating back to your team at the plant is also vital to getting the greatest return for the time and financial investment you put into the show. 
What are you learning that might help engineering, manufacturing, or that could help customer service do their jobs better? What questions could the team back home answer for you, so you can pass along relevant information to a prospect you spoke with earlier at the show? If you respond to a prospect's inquiry during the show, you'll leave a great impression that will go a long way toward establishing a relationship after the show. 
More Trade Show Tips 
This isn't a comprehensive list of all you have to do before a trade show, but we've covered some of the most important items to maximize your trade show investment. We help companies prepare before, during and after trade shows, from scheduling media interviews before the show to engaging their audience with creative displays and memorable promotional items during the show to following up on each lead in a timely, helpful manner.  The goal is to build great customer relationships! How can we help you?
While Trade Shows are primarily marketing events, there are plenty of PR opportunities in every show. We help our clients make the most of those opportunities and build long-term business relations. Want to discuss the possibilities? Get in touch. 
https://www.felberpr.com/wp-content/uploads/Felber-30th-logo-600-min.jpg
0
0
Zoe Blank
https://www.felberpr.com/wp-content/uploads/Felber-30th-logo-600-min.jpg
Zoe Blank
2022-10-10 15:01:22
2023-04-10 14:38:53
Capitalize on Trade Show Chatter, Before, During and After the Show