Diversify Your Manufacturing Business to Rock the Next Recession
We're excited to have Jonathan Slain, author of  'Rock the Recession: How Successful Leaders Prepare for, Thrive During, and Create Wealth After Downturns' as a featured guest blogger. The following article is adapted from his book.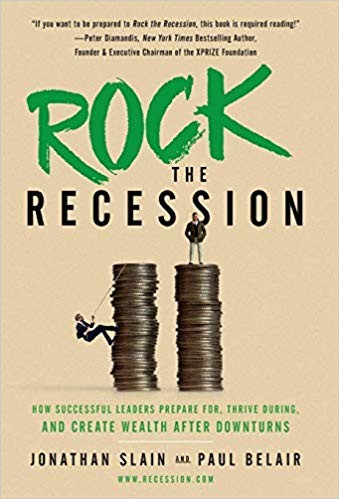 Diversify Your Manufacturing Business to Rock the Next Recession
Every recession plays out differently, and you never know which industry or geography will be hit the hardest. By diversifying to spread your business between multiple industries and markets, you minimize the impact any single industry has on your bottom line.
If the next recession hits manufacturing especially hard again, for example, you won't be completely sunk if your business spans multiple industries and markets. You can make up for losses in one area by shifting your focus to others until the recession ends.
Let's take a deeper look at how you can diversify your business in three ways—your customers, your products and services, and your industry—to bolster it against the next downturn.
Diversifying Your Customers
Before you take the ambitious step of diversifying into different markets, take a close look at your current customer base. To minimize the damage losing your biggest client would cause, make sure that no single customer accounts for more than 10 to 20 percent of your revenue.
Run through your customer list to understand how your portfolio will fare in a recession, and then be proactive in diversifying. If you discover you have serious customer concentration in your business, start reaching out to new customers immediately. You need to spread the risk around so your business isn't at the mercy of another's success.
Diversifying Your Products and Services
It's not enough to diversify geographically and simply pick up new customers; you must diversify your products and services, too.
Work with your leadership team to figure out what you can add to your portfolio. How can you pivot to a product or service that has more demand during a recession? How can you provide more robust solutions to retain your current customers when they're forced to make cuts?
Analyze and anticipate your customers' needs and develop new offerings to keep your business cost-effective and relevant before, during, and after a recession.
Diversifying into New Markets and Industries
Finally, think big-picture and consider which new markets and industries you could serve to cover your bases during a recession.
If we look back at the Great Recession of 2008–2009, we see certain industries got pummeled: manufacturing, finance and insurance, travel and tourism, and certain segments of the construction business. New car sales plummeted. Four-year university enrollment declined heavily. Casinos, hotels and motels, jewelry stores—all of these businesses took a big hit.
Then there were other industries, like healthcare, that grew during the Great Recession, or at least held steady. Community college numbers went up. Grocery stores did well. Guns and ammunition, veterinary services, correctional facilities, multi-family housing, storage and warehouse leasing, remediation and environmental cleanup services—all of these were winners.
According to one recent IBISWorld report, all of the following industries are projected to grow: "tortilla production, wineries, vitamin and supplement manufacturing, software publishing, VoIP, IT consulting, video games, marijuana growing, and a host of online retailers." Some of these industries may be off the beaten path, but if there's an opportunity for you to start a relationship with a company in one of these fields, why wouldn't you?
You can find up-to-date information on end markets and industries that will grow or be stable in the future if you take the time to look. The secrets are out there, but they're not always free.
Here's a pro tip: purchase a subscription to the IBISWorld database, which will give you access to hundreds of different industry reports. Research firms, like IBISWorld, also put out newsletters with information about which industries are hot right now and which are forecasted to perform poorly. Seriously, it's like having the answer key to a test before you take it!
Don't Let Your Defenses Drop
Diversifying your customers, products and services, and markets takes continual outreach, research, and maintenance, but by putting in the work and spreading your risk around, you'll protect your business—and even position it for growth—during the next recession.
Jonathan Slain and Paul Belair founded Recession.com to give entrepreneurs a free tool to assess their recession readiness at Recession.com/Ready.
Interested in preparing a recession plan but don't know where to start? Use the coupon code "felber" at www.recession.com/shop to get 50% off the Rock the Recession workbook to create your business recession-proofing action plan. 
https://www.felberpr.com/wp-content/uploads/Felber-30th-logo-600-min.jpg
0
0
admin
https://www.felberpr.com/wp-content/uploads/Felber-30th-logo-600-min.jpg
admin
2019-11-14 13:52:43
2019-11-14 14:08:00
Diversify Your Manufacturing Business to Rock the Next Recession