"It's in There!" Why Pay Extra When It's Included in HubSpot?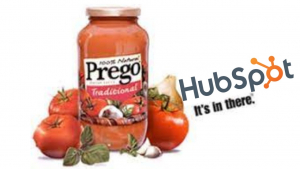 For those of a certain age, you may remember the Prego commercial where the son convinces the father that Prego spaghetti sauce uses the same great ingredients as the old-world family recipe. The father keeps asking about this spice and that, and the line "it's in there" is repeated.
Calendar Integration and Simple Meeting Booking
In sales, overcoming hurdles and converting prospects to customers quickly and easily is key. Any barriers, such as slow response to inquiries or landing appointments can send your coveted prospect looking elsewhere. Something as simple as booking an appointment directly with a representative may be the difference between getting an at-bat and being put on the bench.
There are many programs, for a fee, that allows scheduling. Calendly and TimeTap for example. For our customers, HubSpot is the default winner. Integration with their calendar is included in HubSpot at no extra fee. Book meetings online or in person. Embed calendars in blogs, emails, and landing pages to allow prospects immediate access to your calendar. You can have multiple meeting schedules (think Zoom, in-person, or just one event, such as the week of a tradeshow). With HubSpot, calendar links can be placed in email signatures, in chatbots, or even live on a website. And, since it is all within HubSpot, the history stays with your contact in one neat central CRM. Why pay for another application, especially when you miss out on all the free integrations? How easy is it? Rob Felber's Zoom Calendar.
Live, Automated Chat Features
And, speaking of chat, why pay for that service? HubSpot chat allows live answering as well as automated responses. Don't lose a prospect that has an immediate need or question by not being available. And, with HubSpot, you can start a CRM record with just their email address. Handle inquiries from pricing and material questions to order status and inventory, in seconds – oh, did we mention it does not cost extra?!
Survey Creation and Real-Time Data Collection
Creating surveys just got easier. Many of our manufacturing clients, especially those recertifying their ISO ratings, need to conduct customer satisfaction surveys. While Survey Monkey and Delight work, there are fees for using the premium features. All within HubSpot, we recently created a simple survey, complete with dropdown choices and comment text capture with a landing page – all branded to the client. Oh, and the data, collected for free, is captured on each individual contacts record. Did we mention this did not cost anything to execute?
HubSpot Has it All and is There to Help if You Need it
Calendars, chat, and surveys are just a few of the many features that enhance a modern, robust marketing software such as HubSpot. We use it, our clients use it and you should too. Reduce your tech stack by integrating multiple features and tools into one, easy-to-use platform.
By the way, HubSpot's support is powerful, 24/7, and above all else, just pleasant, nice people that guide you through technology without making you feel, well, stupid. They know not all of us are tech wizards. They always ask what are you working on today and how they can help. Then they help.
Want to learn more? Here's my calendar!
https://www.felberpr.com/wp-content/uploads/Felber-30th-logo-600-min.jpg
0
0
Rob Felber
https://www.felberpr.com/wp-content/uploads/Felber-30th-logo-600-min.jpg
Rob Felber
2023-02-03 12:55:59
2023-02-15 11:38:52
"It's in There!" Why Pay Extra When It's Included in HubSpot?