Our Agency's Transition to Public Relations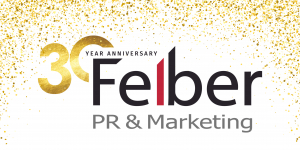 For those who grew up in Northeast Ohio, we cherished those steamy hot days spent at Geauga Lake amusement park and sister property SeaWorld. Getting cooled off by Shamu while trying to keep your Dippin Dots dry was great fun.
When Six Flags took over the amusement park, they hired our agency to develop promotions for events and rides. Whether it was a postcard with a plastic spider promoting HalloWeekends or a printed roll of toilet paper indicating the ride would scare the–, well you get the picture, Six Flags had recognized the power of dimensional promotion. For our "origin story" see our recent blog The Road Less Traveled: Agency Skills Forged by Opportunity.
Our next fortuitous turn on the road less traveled came when we asked the question, who are these promotions targeting? The answer and the group we would soon come to know and love were the media. Why the media we asked? The answer then, as it still stands today, is the media are the folks that buy ink by the barrel and hold the keys to a much larger audience. If Six Flags could get reporters to attend a special media day preview event, they knew that photos, videos, and stories would abound. 
Around the early 1990s, I was also a civilian volunteer with the US Coast Guard Auxiliary. At one organizational meeting, a division officer said to me, "so you're in advertising, how would you like to be the public relations officer?" I remember thinking, "whoa what did I get myself into?", just like the famous stuffed lion story, again, in the above-referenced blog. 
Mark Norfolk, president & CEO of Fabrisonic, LLC., & long-time client of Felber PR & Marketing being interviewed by the media at the International Manufacturing Technology Show (IMTS) 2022. The Felber team conducted media research & contacted media personnel to schedule this and other interviews ahead of time to take place during the show.
Immediately, I called an older brother who had worked in PR and asked what a press release was and how to write one. I soon found myself writing responses to our local editors and being interviewed on the docks by local TV reporters, telling the story of the rescue volunteers that patrolled Lake Erie. This transition, from a simple roll of toilet paper to working with the media was the birth of Felber PR and Marketing's public relations practice.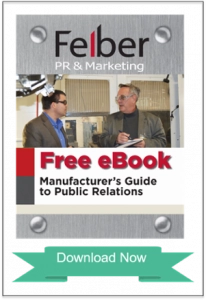 We learn by doing, and experience is the best education. We were thrust into the world of advertising when we started creating media promotions targeting advertisers for the trade media. And now, by working alongside editors and their publication marketing directors, we inadvertently learned the tricks of the PR trade, including how to use editorial calendars to understand what content worked with which industrial trade media publications.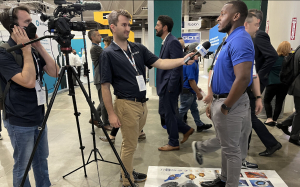 Terrence Mathis, Manager of Engineering-Cable Protection for PMI Industries Inc., being interviewed at the 2022 Offshore Technology Conference (OTC) in Houston, Texas. He was asked his opinion of OTC2022, its value to young professionals, and what advice he would give to other young professionals about future OTC events. This at-show media interest in PMI Industries was in part generated by the Felber team's public relations and trade show marketing efforts.
Armed with this knowledge, we built a skillset in targeting publications that cover countless manufacturing sectors. In a future blog, we will tie it all together, from pitching stories and factory tours, to trade show media interviews and building out a deep press room for our manufacturing clients. 
https://www.felberpr.com/wp-content/uploads/Felber-30th-logo-600-min.jpg
0
0
Rob Felber
https://www.felberpr.com/wp-content/uploads/Felber-30th-logo-600-min.jpg
Rob Felber
2023-02-17 13:08:38
2023-04-10 14:37:54
Our Agency's Transition to Public Relations