Felber PR & Marketing, "Adventures in Marketing" –
Sustainability is an important and cost-saving practice. This popular trend is about "developing and deploying innovative new ideas for products and processes that help improve performance, maximize efficiency, reduce costs, slash waste and increase the bottom line." Public relations and marketing is an effective tactic that can promote sustainability for organizations, their projects and perhaps on the recruitment of the next generation of employees.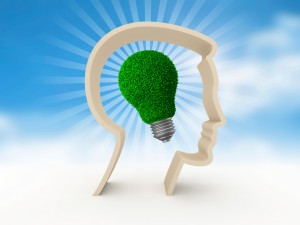 Paul Tate – Research Director and Executive Editor for the Manufacturing Leadership Council
Still think sustainability doesn't pay? Try telling that to Robert McDonald, chairman, president, and CEO of Procter & Gamble.
In P&G's latest annual Sustainability Report, released last month, McDonald reveals that his company has saved nearly $1 billion in costs over the last 10 years directly due to its sustainability efforts, even as sales increased by $10 billion in the same period.
It's an impressive record. Between 2002 and 2012, P&G's energy use dropped by 52%, C02 emissions went down by 54%, water usage fell by 58%, and waste decreased by 74%. Today the company says that 99.2% of all the materials that come into its manufacturing plants are either used or recycled.
More goods with fewer resources? That's an impressive Lean achievement in anyone's book.
And this strategy is not just designed to give P&G's consumers a warm and fuzzy feeling of environmental worthiness as they buy the company's products around the world. Like the critical cost-saving Lean initiatives that kept many companies competitive in decades gone by, it's all about developing and deploying innovative new ideas for products and processes that help improve performance, maximize efficiency, reduce costs, slash waste, and increase the bottom line.
"We believe most of the sustainability challenges the world faces can be solved with innovation," says McDonald in the report's opening statement, "and that this innovation can have a positive business impact."
Manufacturing industry innovation, of course, often starts with the front-line engineers and designers who develop the next wave of products and manufacturing processes. So it's interesting to note that a new survey by the ASME (formerly the American Society of Mechanical Engineers) and design-software company Autodesk found that 75% of professional engineers say they now work for companies involved in, or extremely involved in, sustainability in some way. That's a significant rise from 66% last year.
The majority of the 4,500 professional engineers who responded to the "Sustainable Design Trend Watch Survey" said designs that use less energy or reduce emissions, followed by manufacturing processes that use fewer natural resources, are the two most important types of sustainability projects they work on. Well over 60% expect their company's involvement in sustainable design specifications to increase in the next year.
Of course, money remains a key driver in many of these innovation efforts. About 27% of respondents said the organizations they work for invest in sustainable design practices only if these increase throughput and cut costs of existing products. A quarter of respondents said their organization will actively spend extra money to incorporate sustainable design specifications in most new products.
Those numbers may well change dramatically as the next generation of product designers and engineers enters the workforce. The survey asked 1,900 undergraduate, master's, and Ph.D. engineering students for their views, and found that over 70% of new engineering students say they are already involved in studying or developing more sustainable technologies. They also believe that designs that use less energy or reduce emissions; that require less packaging; use renewable, recyclable, or recycled materials; and are supported by manufacturing processes that use less energy and natural resources are by far the most important to them and their future careers.
Perhaps most importantly for the manufacturing industry as a whole, over 90% of the next generation of young engineers surveyed firmly believes that designing sustainable and green products results in greater product innovation.
The message seems to be clear: Gone are the days when sustainability in manufacturing was simply about corporate tree-hugging and turning out the factory lights at night. It is now about the future of the business—from innovative product and process developments, to corporate-wide Lean operational efficiencies, to high-potential improvements in bottom-line financial performance.
Sustainability is probably the biggest innovation opportunity out there right now. And whether you're already involved or not, it seems like your next generation of skilled employees, and your future customers, will certainly expect you to do things differently.
https://www.felberpr.com/wp-content/uploads/FelberPR-logo.gif
0
0
admin
https://www.felberpr.com/wp-content/uploads/FelberPR-logo.gif
admin
2013-01-07 12:30:40
2013-01-07 10:27:03
Lean To Green: Manufacturing's Biggest Innovation Opportunity?