The Trade Show is Over: Time to Maximize Your Investment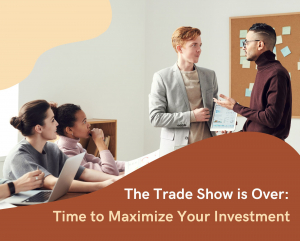 So, you made an effort to capitalize on trade show chatter, before, during and after the show. How do you know you had a successful trade show? After the proper planning, preparation and practice, you met lots of people and started some great conversations. Excellent! 
Now, it's time to make the most of those new connections.  
Following up three to 7 days after those initial trade show conversations is critical. Also in that first post-show week, your prospects will probably be contacted by a competitor or two – you want to look good in comparison.
It's time for your CRM system to help you out. 
Managing New Contacts from a Trade Show
You just met a lot of people, and some of them expect to hear from you very soon. In fact, they're looking forward to it. They're warm leads. Some will be glad to hear from you IF you have something helpful for them. They're qualified leads. And while others will barely remember you, you know you have something to offer them. They're prospects or cold leads, and they're valuable too. 
The right process will help you address each of them in turn. 
Before the trade show, you probably wrote targeted post-show emails for each type of prospect. You wisely mirrored the graphics and messaging that you used before and during the show. And you automated the process to be automated with triggering events that will keep each type of prospect engaged properly for wherever they are in the buying cycle. 
If this sounds complicated, it's not! A user-friendly CRM simplifies the process and helps you track each prospect through the sales funnel. 
Want some help? Contact us.
Trade Show Review: How Did You Do? 
➡️It's worth repeating: reaching out to new trade show contacts in a timely manner is your first priority after the show. ⬅️
Then, after catching your breath, it's time to review the whole process. 
Trade shows are expensive, and designing a booth, staffing it and providing unique, meaningful promotions adds a lot of time (and more money) to the endeavor. Was it worth the investment? Ten different companies may have 10 different methods for determining the answer to that question.
Evaluating the total number and quality of leads generated is one way; tracking benchmarks to determine how valuable the show was for your organization is another. Most companies judge success based on a variety of factors including new accounts, new product lines introduced into existing accounts, and of course, based simply on sales order volume in the first few months after a show. 
Whew. Now it's finally time to give yourself a pat on the back and then – get ready for what's next! Soon, you'll be having more in-depth conversations and developing new relationships with many of those new prospects. 
Already registered for your next trade show? Download the Trade Shows for Manufacturers Guide here.
https://www.felberpr.com/wp-content/uploads/Felber-30th-logo-600-min.jpg
0
0
Zoe Blank
https://www.felberpr.com/wp-content/uploads/Felber-30th-logo-600-min.jpg
Zoe Blank
2022-11-16 00:00:22
2023-04-10 14:38:45
The Trade Show is Over: Time to Maximize Your Investment