Why Manufacturers Should Invest in Digital Advertising Right Now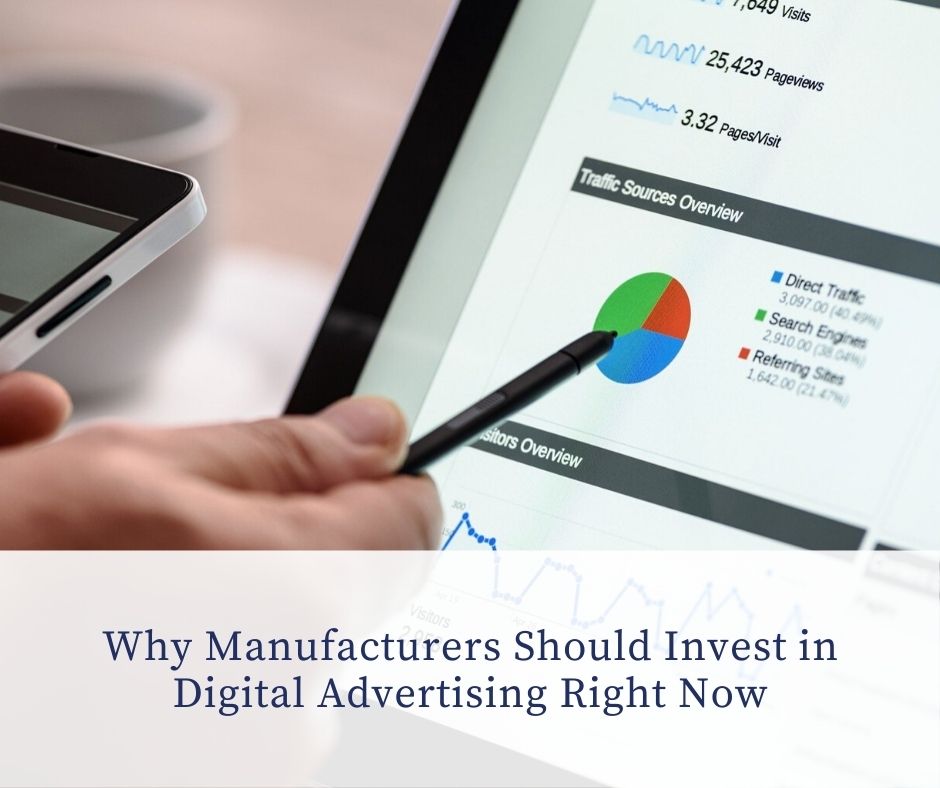 Digital advertising such as pay-per-click and social media ads are increasingly becoming a marketing budget replacement for in-person events such as conferences and tradeshows. This is undoubtedly due to the "new normal" being forced upon manufacturers by the COVID-19 Pandemic. With no end date for COVID-19 in sight, this trend will continue to grow, making digital advertising a great strategy for reaching your prospects and customers. If you read our blog, "Why Manufacturers Need to Utilize Inbound Marketing to Survive COVID-19", you understand that now more than ever is the time to invest in digital sales and marketing tactics.
Many manufacturers have made the choice to decrease or pause all marketing spending, which is often the first knee-jerk reaction to a crisis or recession. We have always professed this is NOT the time to back off of revenue-generating tactics. Consider that your competitors might be doing the same, which strategically puts your manufacturing operation in a position to actually GAIN market share. And, digital advertising is one of those tactics that are affordable, measurable, and easy to quickly deploy. In comparison to pre-COVID digital ads, there is likely a significant reduction in CPM (i.e., impressions) and cost-per-click (CPC) costs due to your competitors reducing or completely pulling their digital ads. This creates an opportune environment to amplify your share-of-voice (meaning your relative portion of ad inventory within a defined market over a specific amount of time) and increase customer acquisition at a lower digital cost-per-sale than in the pre-COVID world.
Digital advertising is a strong lead generation tactic if there is a strong inbound marketing strategy behind it. 
We have many B2B manufacturing clients who are currently utilizing digital advertising to generate strong, qualified leads. (We're also practicing what we preach for our own lead generation – and it's working beautifully!). Social media advertising (primary LinkedIn ads) has been especially valuable for our clients as this is the leading B2B social media platform for the industrial sector. 
When meeting with new manufacturing clients, more often than not, they tell us that they are or have in the past utilized digital ads and saw an uptick in traffic. However, when we go further and ask how many of those website visitors converted as a lead by filling out a form, more often than not, the ads aren't generating conversions. Consider all this great traffic coming to your front door (website), but it's 5:55 pm, lights are out and the door is bolt locked. Leads cannot get in! Consider our free Inbound marketing assessment to discuss your situation now, for free.
If the visitors from your digital advertising efforts aren't converting into tangible leads, your salespeople have no way to build relationships and ultimately, close them as customers. Wouldn't it just be great to have these leads coming into your database live, every day?
When developing digital ad campaigns for our clients, we have the ultimate goal of conversion in mind and developing strong, compelling content offers such as technical papers and free eBooks to offer your prospects. Your website visitors want to learn and be educated on your products and processes. By offering engaging content, your prospect is getting something valuable in return for filling out your form.
In contrast, if your digital ad sends a prospect to your website with a general contact us form on it, they may be less likely to fill it out for a few reasons:
Your company is an unknown entity and they aren't comfortable being called or emailed by you before doing more research.

They may be in the beginning stages of their buyer's journey and aren't ready to talk to sales.

There is no compelling reason for them to fill out a form because

they get nothing valuable in return

. 
Be honest, don't you pause too when faced with a form to fill out, especially when you're not even sure if the company will solve your problem? Nobody gets married on the first date. Simply put, the value they feel they will gain must outweigh the angst they feel when giving up their email address and contact information.
How to create a successful digital strategy
Although launching a digital ad campaign is a fairly quick process, the work of optimizing your paid search campaigns and maximizing your return takes time, and patience. Achieving success requires data analysis and commitment to test and tweak over time. There are a lot of variables to your campaigns, so it is important to manage expectations and not expect a huge success and ROI right after your first launch. 
Having a strong inbound marketing strategy behind your pay-per-click and social media ads are imperative in driving lead generation. You may have a beautiful ad that people click on but what happens afterward? In order to have a successful digital ad campaign, you must have a compelling content offer that prospects will want to convert on in order for your manufacturing company to utilize digital ads as a sales tool. Need content help?
Interested in revamping your marketing strategy? Are you not seeing ROI from your current marketing efforts? We can help. At Felber PR & Marketing, we work exclusively with business-to-business manufacturers and help them drive quality leads, determine the best tactics for their unique goals, and provide our manufacturing clients with optimal return-on-investment from their marketing efforts. 
https://www.felberpr.com/wp-content/uploads/Felber-30th-logo-600-min.jpg
0
0
Rob Felber
https://www.felberpr.com/wp-content/uploads/Felber-30th-logo-600-min.jpg
Rob Felber
2020-08-09 16:39:27
2020-08-09 16:41:57
Why Manufacturers Should Invest in Digital Advertising Right Now