Why Manufacturers Need Inbound Marketing to Survive COVID-19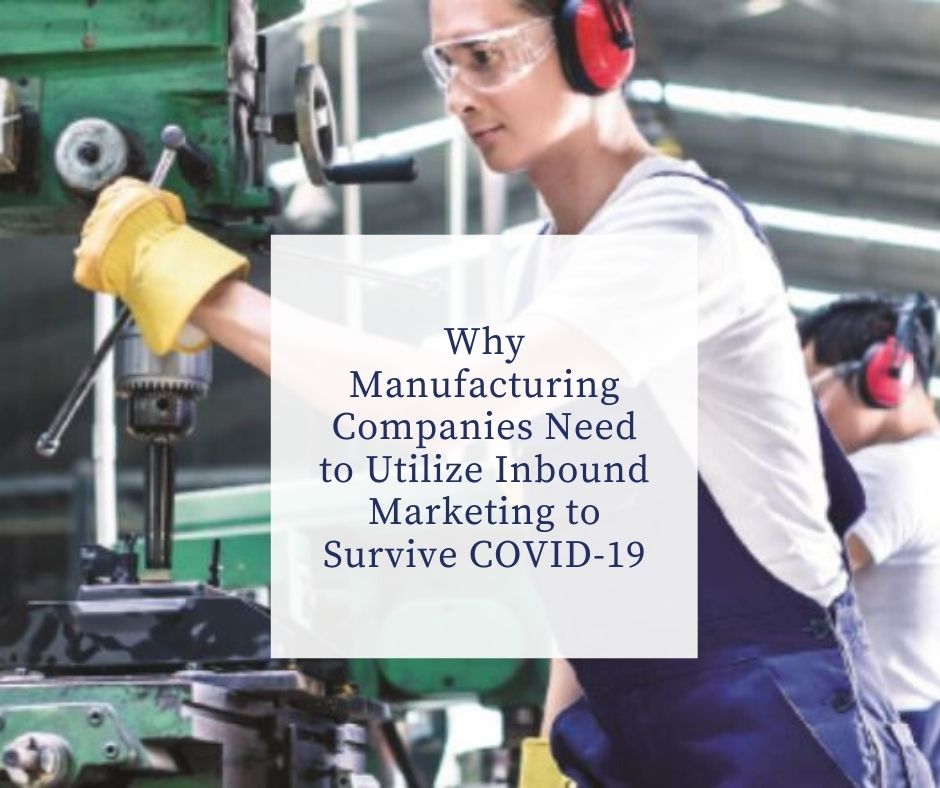 COVID-19 has impacted every aspect of manufacturing business operations and most significantly, how we sell. Manufacturing companies have long relied on word-of-mouth referrals or benefited from their years in business and strong industry reputation to sell. Business-to-business manufacturers have also utilized annual industrial trade shows and exhibitions as sales tools to network and build customer relations. 
Due to COVID-19 shutdowns and regulations, manufacturing salespeople now more than ever are having to change the way they sell. Barriers such as limited face-to-face business meetings and canceled events and conferences have left manufacturers with the challenge of planning how to sell without being able to rely on past practice and the traditional sales tactics they know and love.
The key to resilience in this challenging time is to develop a digital sales and marketing strategy to mitigate this loss. Alternatively, and not to sound too alarmist, it could be a significant factor in which manufacturing companies survive and which companies do not make it through COVID-19.
If you are a B2B manufacturer that has not considered inbound marketing, it's time to go digital to meet the demands of selling in our COVID-19 "here to stay" world. 
Let's face it, nobody has any idea how long this will last nor what long-term changes COVID-19 will bring to how we do business next year, next month or even next week. However, in the coming months, your prospects and customers are going to be hesitant to shake your hand or allow you into their facilities.
By adopting inbound marketing, you are creating an environment via web and social media where relationships can be built and introductions to prospects, and influencers can be fostered. This is very similar to the transition in the auto industry. Absolutely everyone goes online to look at cars before visiting a dealer (if they even go to the dealer anymore!)
Manufacturing salespeople who typically would be on the road visiting customers or exhibiting at trade shows are now confined to their homes or offices, making it the perfect time to work on an inbound marketing strategy. 
Steps to success with Inbound Marketing
First, take the time to research where your prospects and customers spend their time online, what they read, and where they get their advice. Second, review your front door image – your website. Has your old website not been generating leads for a long time? Or even worse, did you invest money into a pretty new website that has more bots and college students filling out your forms than prospects? Are you seeing traffic convert to qualified leads in your CRM?
Right now is an excellent opportunity to also take inventory of your website, social media, the content you are offering via blogs and the efficiency of your sales CRM. The great thing about adopting inbound marketing principles is that it doesn't have to be a massive overhaul of your website. Your inbound marketing strategy could be as simple as updating your website copy to focus on your ideal buyers (or as we call it in marketing terms buyer personas).
Use this time to update forms so you are asking better qualifying questions. Better questions will keep your salespeople from wasting time talking to weak leads. Find good technical writers and develop content that your prospects find valuable. This helps to build stronger relationships with prospects and customers. 
Once you have your website up-to-date, Google Ads and LinkedIn Ads are great tactics to drive better leads to your brand. We have many clients right now who are utilizing digital advertising and have seen an influx of strong, qualified lead conversion through targeted ads offering a strong content offer such as a technical paper or eBook.
An inbound marketing approach isn't about changing every aspect of how you sell. It's about enhancing what you do well, creating a digital footprint so people can discover you. Developing content that drives sales, and giving your salespeople the knowledge to identify which prospects are good leads and which ones are not will help your team sell smarter, not harder. 
Interested in adopting an inbound marketing strategy? Unsure where to start? 
At Felber PR & Marketing, we work exclusively with business-to-business manufacturers and help them drive quality leads, determine the best tactics for their unique goals, and provide our manufacturing clients with optimal return-on-investment from their marketing efforts. 
Do you have 30 minutes to discuss your manufacturing company's marketing strategy? No fee, no pressure. We'll answer as many questions as we can in this half-hour.
Yes, I want to talk about my marketing. 
https://www.felberpr.com/wp-content/uploads/Felber-30th-logo-600-min.jpg
0
0
Rob Felber
https://www.felberpr.com/wp-content/uploads/Felber-30th-logo-600-min.jpg
Rob Felber
2020-07-21 14:24:01
2020-07-21 14:50:49
Why Manufacturers Need Inbound Marketing to Survive COVID-19