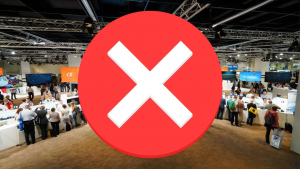 Two years after COVID began disrupting in-person marketing and events, supply chains, and life in general, it's almost inevitable that your sales and marketing pipeline has suffered. In April of 2021, we felt trade shows might offer relief (Will Trade Shows Be the Shot in the Arm for Manufacturers?). Of course, we had not yet heard about something called Omicron.
Live events, from local networking groups to international trade shows, are just beginning to rebound. CES was held live in Las Vegas earlier this month, with a smaller than usual crowd. It's almost certain to be a few years before those shows are as strong as before the virus turned handshaking into a rebel move.
So, what can you do to generate new business when the trade shows and other events you have relied on are virtual, perpetually postponed, or a mere shadow of their former selves? Plenty.
COVID-Era Marketing & PR Tips
 The most obvious advice is to embrace virtual events. Being there, even on screen, is (usually) better than being absent – provided you're prepared to meet the challenges. Of course, cost is still a factor, and it simply may not be a wise investment to pay for a virtual show.
Here, are a few tips for making the most of COVID-Era events, both live and virtual.
Negotiate with Show Organizers
Show attendance is down. If you are paying to attend an event, you may have a little more leverage to make sure the investment pays off for your firm. Ask for a seat at a workshop roundtable, if possible, or a banner ad on the show website. One thing hasn't changed: a top goal of attending any show is getting as many email addresses as you can, then making the most of those contacts. Obviously, that means you'll need a plan for turning those new email contacts into customers. Read: The Trade Show is over – Now what?
How's your email marketing? We can help.
 Your Message Matters More than Ever
Whether attending live or virtually, we prep show attendees to deliver a handful of talking points very clearly. The talking points are essentially bite-sized pieces of information about your company or product that you want your prospects to remember. Your quality guarantee, for example, or how your latest design innovation will make their manufacturing process easier. The same tactics apply when speaking to media, virtually or in person. Watch this video: Do's and Don'ts When Working with the Media

Hone your message for manufacturers.
Create Your Own Event
Many of our clients are hosting more frequent video calls with clients and prospects or arranging monthly virtual demos or Q&A sessions. Some have started recording regular videos – and posting those on your website is great for SEO.  You may be ready to create your own event! If the idea sounds scary, start small. When you offer useful information and include an interactive element, you can brand a video session as an event. Not sure you have enough content on your own? Ask a vendor or company you partner with, to join in and add to the conversation. Invite all your prospects and watch those new relationships grow. Need a tune-up on your videos? Watch: How to Incorporate Video into Your Manufacturing Sales Strategy
Pro tip: mics matter- and so does lighting and video quality!
Want a review of your sound and video quality? Just ask. We'll offer honest feedback and some tips in our next call.
While we sorely miss live events and trade shows, there are plenty of ways to expand your sales and marketing opportunities – even during a pandemic. In fact, during "these unprecedented times," it's a great time to review the basic principle of sales, public relations, and marketing for manufacturers.
Why PR is More Important Than Ever
When you can't get up close and personal with prospects, you need to find other ways to prove your credibility. When a trade publication highlights your company, the feature serves as a warm introduction to decision-makers.
Of course, the best press is earned, and sending "fluffy" press releases is a good way to get editors to ignore you when you do have something newsworthy to announce. We help clients determine how to make the most of their media opportunities. 4 Ways to Determine if Your B2B Manufacturing Content is Newsworthy
When was the last time you updated your press list?
Consider a Different Dimension
Neither rain, nor sleet, nor a pandemic stops the US Mail. Thank goodness! Direct mail wasn't dead before COVID showed up and it's arguably more important than ever.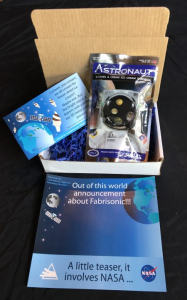 Many manufacturers have had success with what we call dimensional mailings. These memorable mailed pieces represent the tangible benefits of working with your company. The key is making the item relevant and clever. Check out this dimensional used to drive media appointments: Media Appointments That Are Out of This World – Case Study, Fabrisonic LLC.
Don't Be Afraid to Pick Up the Phone
Remember the phone?
Talking points, which are vitally important for trade show encounters, are equally important for inside sales reps who are having conversations with your prospects and customers. Those talking points are also ideal for making short videos that show your best side on social media. Oh, and those benefits delivered in memorable, bite-sized chunks also work well in live chats and almost any other way you are in contact with prospects and customers.
So, what can you do when some of the top manufacturing trade shows and conferences are being canceled, postponed, or poorly attended? Plenty.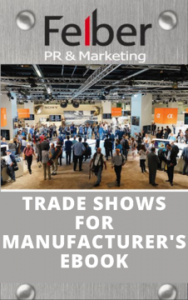 Call us. We get manufacturing, and we can help you get through – and thrive – during these unprecedented times.
https://www.felberpr.com/wp-content/uploads/Felber-30th-logo-600-min.jpg
0
0
Rob Felber
https://www.felberpr.com/wp-content/uploads/Felber-30th-logo-600-min.jpg
Rob Felber
2022-01-27 16:33:55
2022-01-27 16:33:55
What to Do When Your Trade Show is Cancelled (or postponed) AGAIN