5 Components of a Stellar LinkedIn Recommendation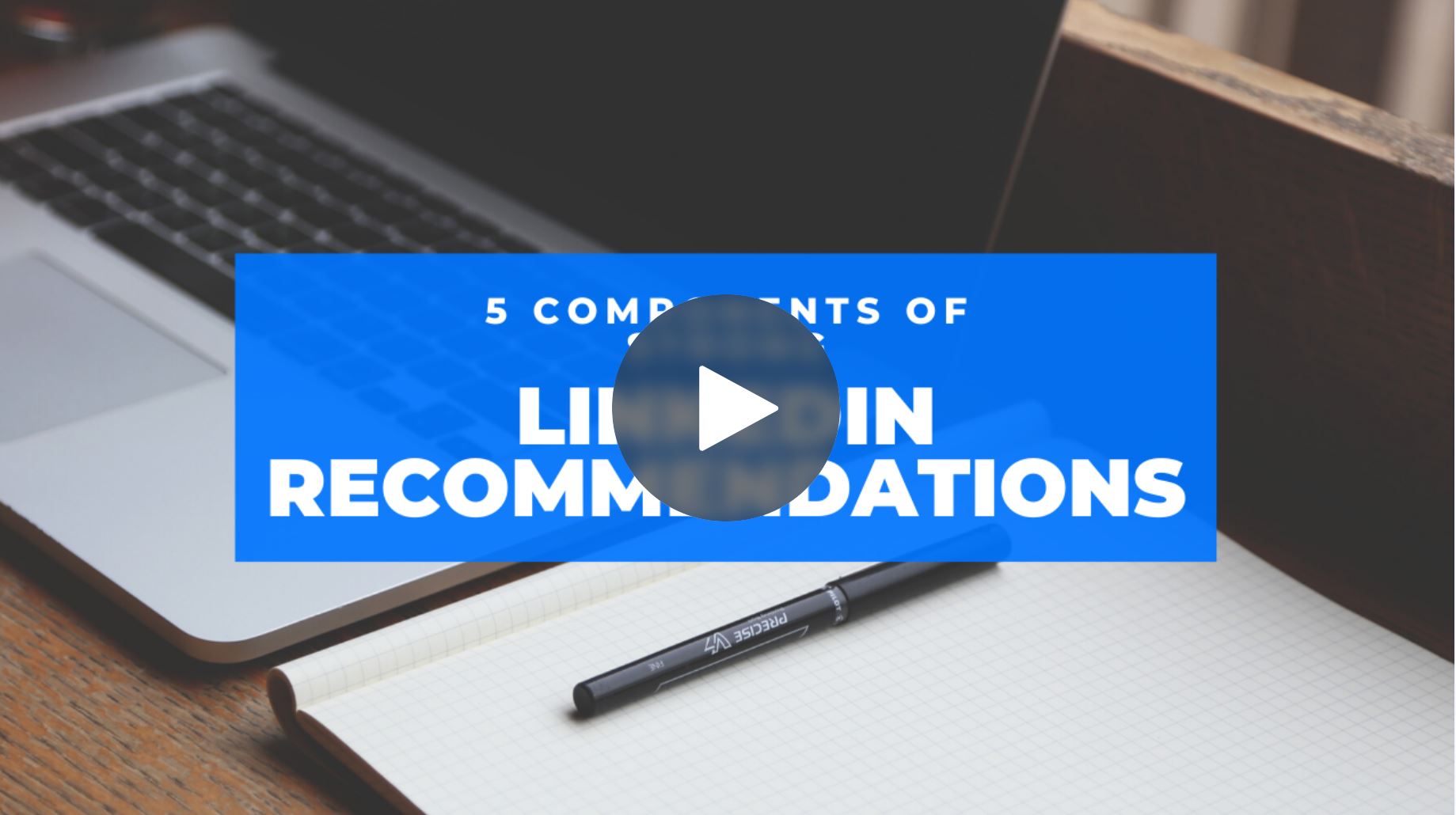 How to Write a Great LinkedIn Recommendation
Most of us have worked with great bosses or colleagues that we would happily recommend on LinkedIn if ask. The problem is, the idea of writing a recommendation can seem overwhelming to people who aren't natural-born writers. I've taken this daunting task and turned it into a simple 5-step, 5-minute process so you can write LinkedIn recommendations like a pro.
Step 1: Start out with a grab-your-attention sentence
"I would describe Lola to others as the glue that holds our sales department together."
"Few people have the opportunity to report to a manager who is also a trusted mentor and friend—but I did when I worked for Jeff."
"Unbelievably efficient is the phrase that comes to mind when I think about my time working with Susan.
Step 2: Describe the relationship between the recommender and the person being recommended
"I had the pleasure of working with Francesca on the ManufacturingWorks Resource Development Committee for the last 3 years"
"I hired Eleanor and the team at ABC Agency after seeing her online portfolio, and she's completed several flawless projects for me since then."
"Juan has expertly filled the role of National Sales Manager and streamlined our sales efforts between both inside and outside sales teams for the last 2 years."
Step 3: Showcase a special trait
"I was impressed by Leslie's ability to handle even the toughest clients. That skill typically takes years to develop among customer service professionals, but it seemed to come naturally to him."
"I always admired Aretha's ability to command a room and get people on board with initiatives–even the most strongwilled individuals who were initially on completely different pages."
"Christian's ability to project manage and handle strenuous deadlines was unlike any I've seen before and made a dramatic difference in the productivity level of our team."
Step 4: Highlight their personality
"Paul always made sure that Monday morning sales meetings were never without donuts and coffee. Talk about a great way to motivate a team!"
"Frieda is a champion for women and makes sure that all the young women on her team are mentored and encouraged to take on leadership opportunities at our company."
"No matter how tense a meeting, Reggie made sure that everyone's opinions were heard and that nobody left the meeting without a smile."
Step 5: Close with your final recommendation
"Vanna would be an asset on any team."
"Any employer would be fortunate to have Lincoln on their sales team"
"Ruth is an incredible leader and team member. I can recommend her unequivocally!"
"I found Matthew to be friendly, articulate & a great person to work with & would recommend him to anyone."
Have a great LinkedIn recommendation you'd be willing to share? Post it in the comments below!
https://www.felberpr.com/wp-content/uploads/Felber-30th-logo-600-min.jpg
0
0
Rob Felber
https://www.felberpr.com/wp-content/uploads/Felber-30th-logo-600-min.jpg
Rob Felber
2020-06-18 12:44:50
2020-06-18 13:02:08
5 Components of a Stellar LinkedIn Recommendation