Hashtag 101 for B2B Manufacturers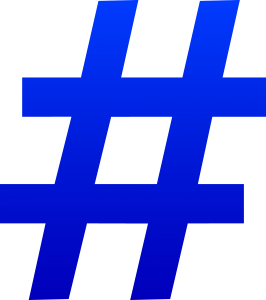 Using #'s for Ultimate Business Exposure
In our last two blogs we focused on using social media to create sales and our 8 step checklist to consider before posting to social media. In this blog, we're going to focus on a very important topic of social media marketing: #hashtags. If you aren't using hashtags strategically or aren't using them at all, you are missing major opportunities to grow your brand. We've outlined the 4 types of hashtags you should use to gain exposure on social media and build relationships with your target audience.
What is a Hashtag?
Hashtags are a word, or group of words after the # sign (for example, #education, #neohio, #cleveland, etc.) Hashtags are used to group thoughts, comments, posts, practically anything around a particular topic.
4 Key Hashtags for B2B Manufacturers
Trending Hashtag

Brand Hashtag

Content Hashtag

Event Hashtag
1. Trending Hashtags
A trending hashtag is a hashtag that includes a popular topic. These "trending hashtag" are constantly changing in real time and a top 10 trend can evaporate as soon as it starts
Examples of this are  #superbowl  and #hometownfair
When you see a related trend to your business, engage with the prospects and customers that are using that hashtag. Using that trending hashtags gives you the potential to get your message visible to an enormous audience.
Make sure that you do not overload your audience with trending hashtags. Posting to too many trends, especially when they aren't related to your business, is seen as annoying and can turn your fans off of following you.
How to find trending hashtags:
Trends on Twitter are on the left hand side of your Twitter feed.  You can also customize your trends based upon your geographic location or the individuals who you follow. These trends can be implemented into Facebook and LinkedIn. In our experience, if it's trending on Twitter, it's trending on those platforms too. Also, the Google Plus' "What's Hot" section shows all the latest trends.
2. Brand Hashtags
A brand hashtag is typically the name of your business or a short tagline that you use for your business. It is important to make sure that yours is unique and distinguishable. Involve people in using the hashtag so that your brand is marketed through social media. Before implementing a brand hashtag, here's a few things you should do.
Check the hashtag on Twitter, Facebook, and Instagram to make sure it doesn't already exist.
Keep it short!! For example, our tagline is #wegetmanufacturing which is short, simple, and to the point. Felber PR using #marketingforb2bmanufacturers would be too much.
Make sure its easy to spell and memorable. You want for people to remember it and use it!
Once you make your brand hashtag, make sure you use it consistently to create brand awareness.
One note of caution. If you are a smaller enterprise, ABC Welding for example, you probably do not have enough followers to start using something so specific.
3. Content Hashtags
A Content hashtag is a  hashtag that isn't necessarily trending and isn't branded. It is a common hashtag used related to the post's topic. Using content hashtags improves the SEO of your post and gets your posts seen by more people who are look for or using the hashtag.
Examples of this are #manufacturing, #3dprinting, and #architecture
Event Hashtags
An Event hashtag is a hashtag used specifically for an event. For example, the RAPID 3D Printing conference is using the #rapid2015 for their event this year.
Event hashtags  are essential to use if you are attending a trade show! It allows your target audience who is also attending the event to see that you are coming. This allows for your brand to gain exposure during the event and can spark further conversation with prospects. Follow the event's Twitter and engage in the hashtag that they use to promote the event. If you would like to find out more about creating a trade show social media plan and optimizing your time a trade show, contact Rob Felber  at Robfelber@felberpr.com or (330) 963-3664
https://www.felberpr.com/wp-content/uploads/Felber-30th-logo-600-min.jpg
0
0
Rob Felber
https://www.felberpr.com/wp-content/uploads/Felber-30th-logo-600-min.jpg
Rob Felber
2015-05-07 13:41:35
2017-09-15 10:25:07
Hashtag 101 for B2B Manufacturers