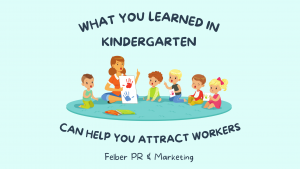 Remember show and tell? We all wanted to have the coolest idea to wow our kindergarten classmates. Attracting workers for your manufacturing operation is much like that precious time in class. 
You have limited time and attention to get your message across. Your mission then was to quickly show them what precious bauble you brought from home and hope they thought it was as cool as you did. 
The same goes for attracting workers, however, you are not just speaking to a small classroom audience. Now, your audience is vast. While the geography of your target for workers might be limited by those that want to work close to where they live, you have to not only show & tell how great it is to work for your company, but you have to battle thousands of distractions competing for their attention. 
There are multiple strategies you can employ to "show & tell" potential employees. There is no one silver bullet tactic, you might need to use a combination of tactics.
Consider a mix of traditional and digital methods to advertise for new employees. Traditionally, radio is a strong and inexpensive way to reach a captive audience; the audience that aligns with similar interests to your current workforce. Consider sports or music genres. Poll your staff to see if there are stations that are listened to more. Radio, while you have the ability to focus on a particular audience, is a broadcast method that reaches thousands. But, not everyone listening is a prospect. Much like billboards or bus advertising, this method is used far and wide to reach as many people as possible (and hopefully some of them are looking to change jobs).
Digital advertising on the other hand can be both highly targeted and measurable. Digital, such as Facebook, YouTube, and LinkedIn allow you to drill down to target specific geographies, job titles, experience, and interests. You can adjust your budget or pause your campaign in seconds, unlike the commitment to billboards or newspaper ads which are all-in commitments.
Digital gives you more control over the creative message, and it's easier to test-market multiple methods, reviewing the data to see where the best engagement is found. Using video on digital platforms allows for more show & less tell. Employee testimonials, plant tours, messages from supervisors and management, the sky is the limit on the creativity you can deploy with targeted, measurable online campaigns. You can even drive traffic directly to applications and interview schedules, giving the prospective employee control over the process. 
Use what you learned at show & tell in kindergarten to prepare the best, most diverse message possible to attract prospective employees. The impression you make now, during recruitment, will carry through to the company culture and retention for years to come.
To learn more about marketing to prospective employees visit www.felberpr.com or contact RobFelber@felberpr.com
https://www.felberpr.com/wp-content/uploads/Felber-30th-logo-600-min.jpg
0
0
Zoe Blank
https://www.felberpr.com/wp-content/uploads/Felber-30th-logo-600-min.jpg
Zoe Blank
2023-05-12 14:22:15
2023-05-15 09:24:04
What You Learned in Kindergarten Can Help You Attract Workers