Easy Steps to Improve Your LinkedIn Profile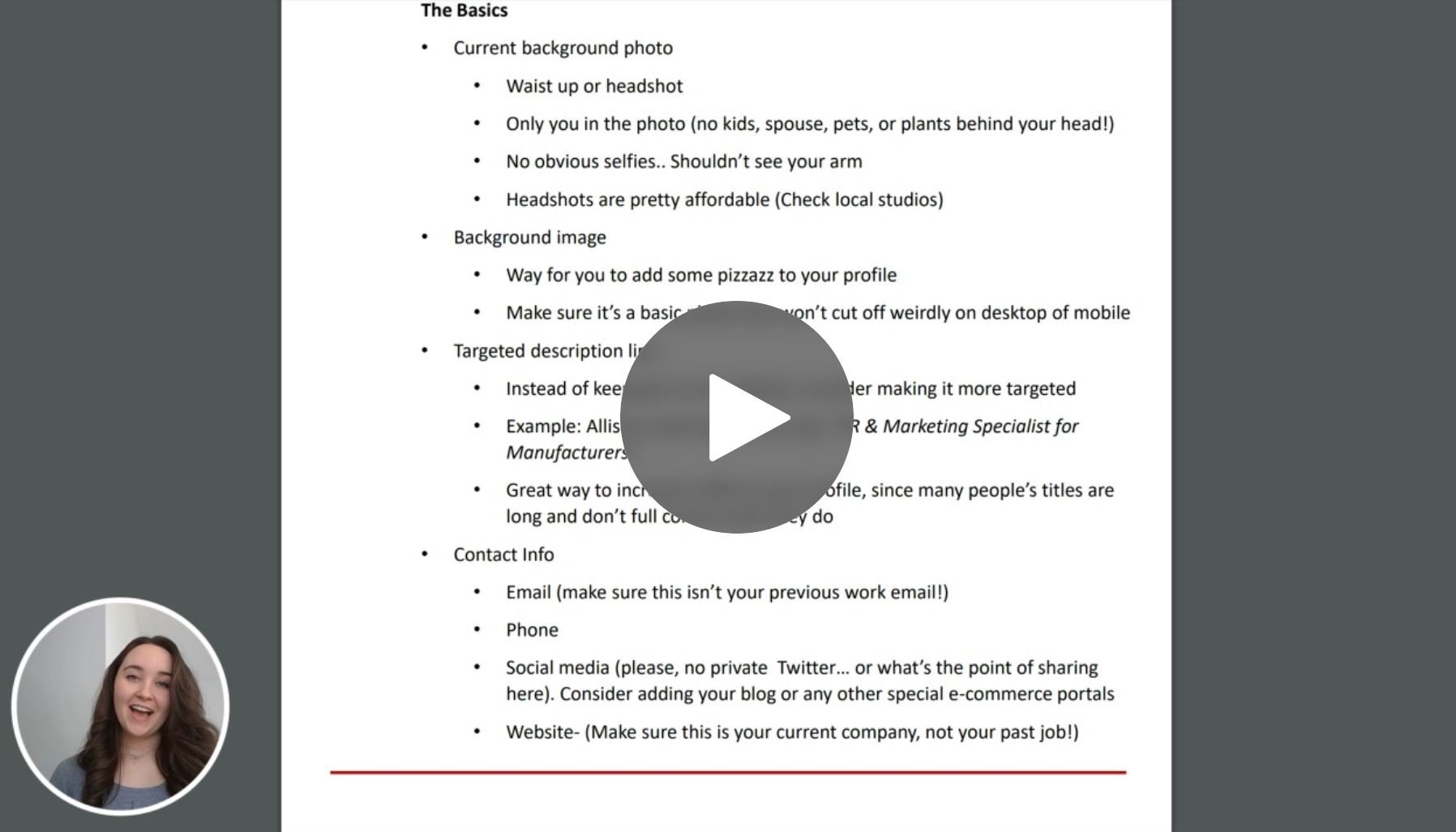 Looking to improve your LinkedIn presence, increase profile views, and connection requests? In this week's Tactics Thursday video, I delve into some easy steps to perfect your LinkedIn profile!
The Basics
• Current background photo– No other people, plants, or pets in the background. Waist up or headshot only!
• Background image– Change the boring blue patterned banner to a product photo or your logo and tagline to add some interest to your profile.
• Targeted description line– If you don't create a description line, it will default to your job title and company. Here's a great example of a description line that makes you want to click on the profile from my boss Rob Felber! Example: "Owner and Marketing Executive that fights fires, literally. Marketing for Manufacturers"
• Contact Info– updated email, phone, and website link to current company
The summary
This section is an excellent place for you to make a knock-out first
impression.
Here are some do's and don'ts to consider.
Do: Discuss the capabilities and products marketed by your company.
Don't: Write paragraphs about yourself. One short paragraph and bullets will
suffice (let's face it, people don't have time to read anymore)
Do: List past clients you've worked with or verticals you serve (e.g. agriculture,
metalworking, aerospace, etc.)
Don't: Include your life story, how many kids you have, or your political views. Focus solely on your career. Leave personal information to your private personal social media channels!
Do: Highlight experience on professional boards, volunteer experience, awards, and certifications!
https://www.felberpr.com/wp-content/uploads/Felber-30th-logo-600-min.jpg
0
0
Rob Felber
https://www.felberpr.com/wp-content/uploads/Felber-30th-logo-600-min.jpg
Rob Felber
2020-05-21 16:02:45
2020-05-27 14:32:45
Easy Steps to Improve Your LinkedIn Profile