How Lake Effect Snow was No Match for the (HubSpot) Cloud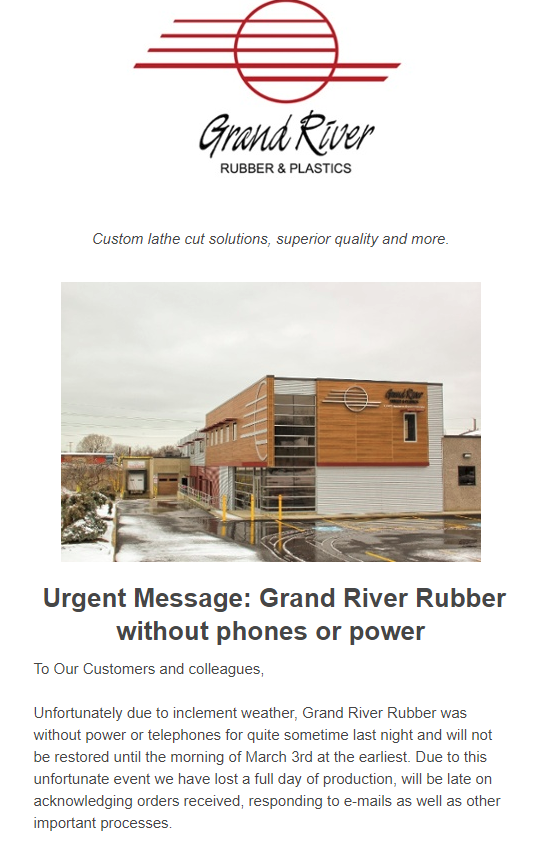 March 2nd, 2018 was a chaotic winter workday that all Northeast Ohioans know too well.   Our city's school district was on a 2-hour delay with heavy snow on the roads, the dog wanted to go out and play, and the driveway needed to be cleared. I quickly accepted that getting to the office that morning would also be delayed.
Once I finished my "snow day" tasks and my teen drivers were off to school, I felt like everything was falling back into place. I ran my 10 am video call from my kitchen and afterward, took a much-appreciated shower The plan was to dress quickly and drive to the office. But as we all know, in business and life, sometimes things don't go according to plan and you have to be prepared to adapt.  I came out to find three text messages and an urgent call for help from our client, Grand River Rubber and Plastics.
The Client Crisis:
Apparently, our client further north of us got slammed with heavy snow, sleet, and ice so bad that all power and phones were knocked out for 24 hours with no relief in sight for another day. Customers' orders were not being received or acknowledged and they had lost several shifts of production.
Despite the unfortunate act of fate and the chaos that came with it, Grand River Rubber & Plastics wanted to notify customers and colleagues of the situation as quickly as possible. Flashback one year prior to today's snowmageddon, the company had hired us to impact lead generation via inbound marketing as well as utilizing public relations and social media. Customers were increasingly using new forms to communicate and marketing activities were generating new leads – – all being recorded and documented in their new customer relationship manager (CRM), and you guessed it, in the cloud.
The Communication Solution: The cloud came to their rescue that day. With my laptop still warmed up from my video call, I quickly accessed their HubSpot CRM online, drafted an email with pertinent information and sent to their 750+ registered contacts. Simply the urgent message and what was being done. Within the same HubSpot portal, the message was immediately posted to their company LinkedIn, Facebook and Twitter accounts.
The Aftermath:
Fortunately, power was restored over the weekend. I updated the Grand River Rubber & Plastics social channels. The company was now able to once again access their server, the internet and update their customers directly.
Grand River Rubber & Plastics' HubSpot platform, a CRM and inbound marketing platform in one portal, allowed our team to share the urgent message with customers quickly and efficiently across email, social media and web. Snow, sleet, and ice may have started the fight but the cloud (and inbound marketing) came to the rescue.
https://www.felberpr.com/wp-content/uploads/Felber-30th-logo-600-min.jpg
0
0
Rob Felber
https://www.felberpr.com/wp-content/uploads/Felber-30th-logo-600-min.jpg
Rob Felber
2018-03-06 09:32:43
2018-03-06 12:38:38
How Lake Effect Snow was No Match for the (HubSpot) Cloud