A Mfg Day Reflection: Why Case Studies Need to be Part of Your Sales Strategy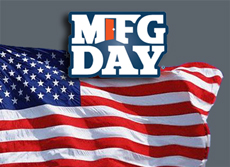 Tomorrow, October 5, 2018, is  Manufacturing Day. This month, across the country, people will join in celebrating modern manufacturing. Students, educators, media, and business people into their facilities to educate them on manufacturing careers and change the public's perception of the manufacturing sector.

At Felber PR & Marketing, we love the excitement that comes with Manufacturing Day and work with our clients to develop great content that portrays manufacturing progress. Content is an excellent tool to highlight your company's expertise, educate your prospects and customers, and add value. In order to stay competitive, manufacturers need to have a strong digital marketing and content strategy. Case studies provide your company an opportunity to showcases specific projects or work with your customers. Case studies also add third-party credibility and could be the difference between your prospects choosing you over your competition during the decision process of the buyer's journey.
Why Case Studies Are Effective
Since the invention of the white picket fence, neighbors have stood on both sides and asked each other for advice. Who's the best landscaper, which store has the best produce, or even which doctor do you prefer? Humans trust opinions before sales pitches and case studies provide your prospects with the assurance that other credible companies have purchased your products. What's the biggest white picket fence (e.g. platform) in the world? Social media such as Facebook, LinkedIn, Twitter and Instagram  – all social for that matter, are the platforms for the world's conversations. Ever seen ISO______. In search of (insert your product here).
Third-Person Credibility
How often are we asked for referrals? Almost every prospect we meet asks if they can talk to our customers. Case studies are written proof that other companies, real people, have trusted (and not been burned) by your work. We're often amazed by the great stories our clients tell us about the solutions they provide. Unfortunately, these great salespeople, owners, and technicians have never committed these stories to writing. I mean NEVER have they posted a blog, NEVER told their story an industry reporter or printed a one-page document about their achievements. Stumped on how to ask your manufacturing customers for case studies? Read our blog: How to Convince Your Stubborn Manufacturing Clients to Participate in Case Studies
Case studies can be featured on your website (like our success stories), sent in follow up emails to engaged prospects, or used in a coordinated media relations program. We speak to a lot of editors on behalf of our clients. Editors and reporters love case studies. It is the single biggest request we get from these media professions. Why? Media inherently want to stay neutral in the content they present to readers. Readers trust the content in magazines to be journalistically vetted. Remember the neighbor giving his opinion? This is just as powerful. Could your company improve their position in the marketplace by posting, emailing and tweeting an article in one of these trusted publications?
So how do our writers learn about and actually help these stories come to life? We love factory tours. We renamed them 'content tours' as they provide the material needed for case studies. I can already hear you. "But we're engineers, not writers!" No worries, we are! Learn about this service here.
https://www.felberpr.com/wp-content/uploads/Felber-30th-logo-600-min.jpg
0
0
Rob Felber
https://www.felberpr.com/wp-content/uploads/Felber-30th-logo-600-min.jpg
Rob Felber
2018-10-04 11:34:03
2018-10-04 11:36:06
A Mfg Day Reflection: Why Case Studies Need to be Part of Your Sales Strategy