What should my blog say? Four Formulas to Create Relevant Content, Fast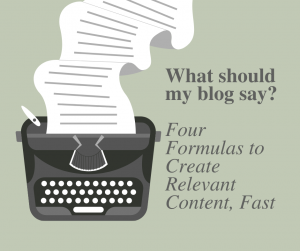 If you're in charge of the company blog, newsletter, or both – and a few other things! – you know that writer's block is real.
You also know that fresh content is important. Fresh, quality content keeps your website more relevant, to the real people who are your prospects and customers, and it's important to search engines, too. (And really good content can even help you get trade publication coverage.)
But what should you write your next business blog post about? Here are four formulas to help you create quality content this week, and next week, and the next…
Share a (short) success story. This can be an anecdote from one of your salespeople describing how they overcame an objection with a solution your company offers – providing a sample so the client could see the material for themselves, for example. It could be as short as this:
 ABC Manufacturing needed to make bigger buckets, but the handles kept breaking. Their handle supplier said they'd cost twice as much. We helped re-design the handle so a lighter material could do the job. The buckets with the new design are popular with their customers because they're easier to stack. Win, win!  Why you'll love this formula: It's like a case study, but much less work!
 When you tell a success story in anecdote form, you can use general descriptions of a problem you solved for a client. You don't identify the client by name, or identify the part. (It should be a true story, of course.) It's essentially a narrative description of one of your company's offerings. People naturally love stories – and they're easy to remember, which is exactly the kind of content you need.
Go on a Roundup! A post of "Top Fastener Styles by Metal Type" would highlight your products in a useful way for clients and prospects, for example. Or, collect your most popular blog posts of the past year, or all of your posts on a given subject or product line. Because a Roundup post includes links back to each of the previous posts, it provides your website with a little more internal structure and organization – Search Engines love that. (SEO bonus points!)
Pro tip: it's easy (and important) to include multiple calls to action in a post like this. How to make a good Call-to-Action even better
A Typical Day at… You go to work every day. You work. You go home. You know the drill…but your clients and prospects would LOVE to know what goes on in there! Highlighting your products, services, and culture in 300-500 words is surprisingly easy. Where does your president eat lunch? Which piece of machinery runs all day long? Who greets delivery drivers at your loading dock? A few candid photos, maybe a quote or two, and you're done! Read our article on How Manufacturers Can Avoid Pitfalls When Using Photos
 More good news: these kinds of "insider" posts are almost always among the most popular pieces of content on a blog or most clicked in a newsletter.
Educate 'em! Ask your customer service reps, "what do you wish ALL of our customers knew?" Their answer (or answers) will make a GREAT blog post! There are many ways to use those answers, too. Depending on the information you gather from your customer service team, you might be able to write a roundup-type post. (Or even better, they might be able to write it for you!) Once you start the conversation with your CSRs or inside sales team, you might be surprised at all you learn. It could turn into a series of posts, a FAQ Page on your website, or a tip sheet for new customers.

Who Has Time to Write a Blog?
Ha! We've heard that before. Time management is so important, there's probably a book or two on the subject 😉
But seriously, folks, our clients tell us that having regular meetings to discuss content calendars, blog topics and newsletter schedules keeps them on track. At the end of each meeting, we decide who will write the content – someone on the client's staff, or someone from our team. We identify the necessary resources, set a tentative deadline, and then follow up before the agreed-upon publication or distribution date. It's not failproof, but for the most part, it keeps fresh content coming. And fresh content generates leads and leads generate sales, and sales are good.
So keep writing!
How can we help you? Schedule a 15-minute consultation at your convenience, and let's talk about it. RobFelber@FelberPR.com, (330) 963-3664
https://www.felberpr.com/wp-content/uploads/Felber-30th-logo-600-min.jpg
0
0
Rob Felber
https://www.felberpr.com/wp-content/uploads/Felber-30th-logo-600-min.jpg
Rob Felber
2021-12-27 12:02:23
2022-01-02 13:41:20
What should my blog say? Four Formulas to Create Relevant Content, Fast