Buckeye Fasteners Company
Branding Process Uncovered the True Spirit and Vision of a Century Old Manufacturer
In May 2015, Buckeye Fasteners, a 110 year old employee-owned fastener company, needed a branding update. With a new website and e-commerce platform for the United States and Canada in the works, Buckeye Fasteners knew that content would be paramount in the new website, social media, and traditional media. During initial discussions with Felber PR on content, it was discovered the company did not have a brand strategy. A brand strategy for Buckeye would need to be created to provide direction to the look, feel and style for all of the company's marketing. This includes how the company is portrayed to the media, on social media, and at trade conferences and community events.
Felber PR & Marketing's solution was to create branding through a four-step process: Cultural Audit, Branding Development, Internal Branding Rollout, and External Branding Rollout.
Cultural Audit
Felber PR & Marketing developed several questionnaires to gauge the company's culture, vertical markets served, and unique and distinguishing factors. We discovered Buckeye Fasteners had a rich company history, with interesting facts about the company's original products. For example, Buckeye Fasteners (then known as the Ohio Nut & Bolt Company) was created in 1905 and its parts were used on the 1926 Ford Model A. Our mission was clear: highlight Buckeye Fasteners' rich history in their branding because with over 100 years of experience, the company certainly has become a leader and expert in the fastener industry.
During this phase, the Felber PR team made multiple trips to Buckeye Fasteners, touring their facilities and interviewing top personnel at the company. We met with employees in all departments and toured the facility to get a more in-depth view of what makes Buckeye Fasteners successful. We determined that one of the best ways to visually describe the brand was through photos of the actual hard working employees at this employee-owned company.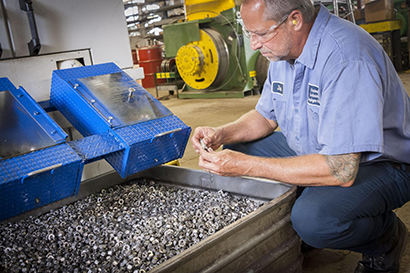 Buckeye Fasteners employee inspecting parts.
We conducted a pre-photo shoot walk through to discuss with the Buckeye team what they would like to be showcase in their new branding and created a strategy to maximize the use of a professional photographer. Many employees have been working at Buckeye for 35 years and Buckeye Fasteners' employee-ownership is one of the many things that makes the company unique.
Branding Development
During this phase, the Felber PR & Marketing team compiled information from the questionnaires, interviews with employees, and tours, and developed branding guidelines for Buckeye Fasteners. What did our research and interviews uncover? The branding message revealed that Buckeye Fasteners is a trusted friend with deep roots in both manufacturing and the community. Employees are tough, goal oriented, and customer focused. Employees work hard with a strong "Made in the USA" work ethic. Buckeye supports their customers from development to implementation and features a cutting-edge, engineering focused approach. Buckeye Fasteners prides themselves on innovation and their custom manufacturing capabilities. The branding report for the company included guidelines for written copy, advertisements, and photos.
Internal Branding Rollout
Since Buckeye Fasteners is an employee-owned company, we felt it was important to include employees in the creation of the branding. We created a tagline contest, designed to engage the employees in the process. Winners would be chosen in each division and then the top tag lines would be voted on by employees. The overall winner of the tagline contest would win a branded corn hole set with Buckeye Fasteners' logo. We also wanted the employees of Buckeye to have their own special place on the new website, so we created the Employee Spotlights tab, where every month, an employee that embodies the Buckeye Fasteners spirit will be featured. The employee spotlights will be unveiled in the new website (launching TBD 2016).
External Branding Rollout
Felber PR & Marketing facilitated a professional day-long photoshoot of two Buckeye Fasteners plants. Since Buckeye Fasteners has a strong employee focus, we advised all photos on the website and in ads to be original photos of actual employees and products. We wanted a very clean but gritty look for the photos; showcasing employees with their sleeves rolled up working hard and smiling broadly. We also featured group photos of Buckeye Fasteners associates since their employee-ownership has created a family-like community that we wanted to portray to the public.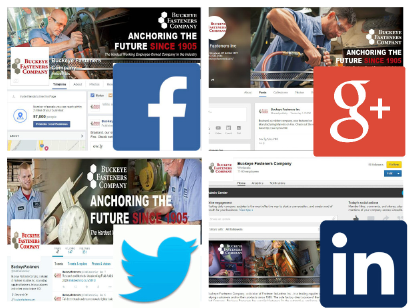 A side-by-side representation of all four
Buckeye Fasteners social media channels.
Social media was being re-born as a viable marketing tactic. We created four channels of social media for Buckeye Fasteners: Facebook, Twitter, LinkedIn, and Google+ and used the new photos on each platform. We used different photos for each platform and developed an overall graphic look for each using the same 'metal-like' treatment around the edges. This approach provided a cohesive look. We also developed a social media calendar featuring company and curated content, representing Buckeye Fasteners in the many verticals they serves (For example, metalworking, automotive, appliance, etc.)
After the photoshoot, we selected photos for the website, print advertisements and trade show graphics. Each trade show banner used the same metal-like treatment as the advertisement and social media photos, creating a seamless and recognizable brand.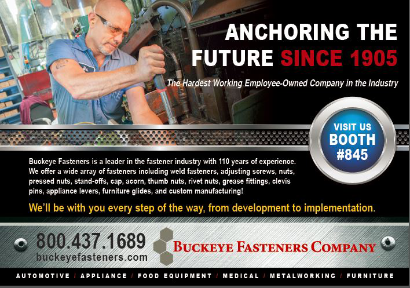 Ad for Fastener Tech Magazine, which ran before
the annual Fastener Tech Trade Show.
Since implementing Buckeye Fasteners' new branding strategy, its following on social media platforms has doubled across all platforms including a mix of industry publications, thought leaders, and prospects. The company is about to launch a new website, complete with branded photos and messages. Employees are more aware of the key message points and now regularly use the same language during media interviews. Now, the company has a clear, defined vision for how to communicate across every conceivable channel.
https://www.felberpr.com/wp-content/uploads/case-buckeye-logo.png
35
200
admin
https://www.felberpr.com/wp-content/uploads/Felber-30th-logo-600-min.jpg
admin
2017-05-24 14:42:22
2017-05-24 16:10:33
Buckeye Fasteners Company