7 Lead Generating Content Styles All B2B Manufacturers Should Implement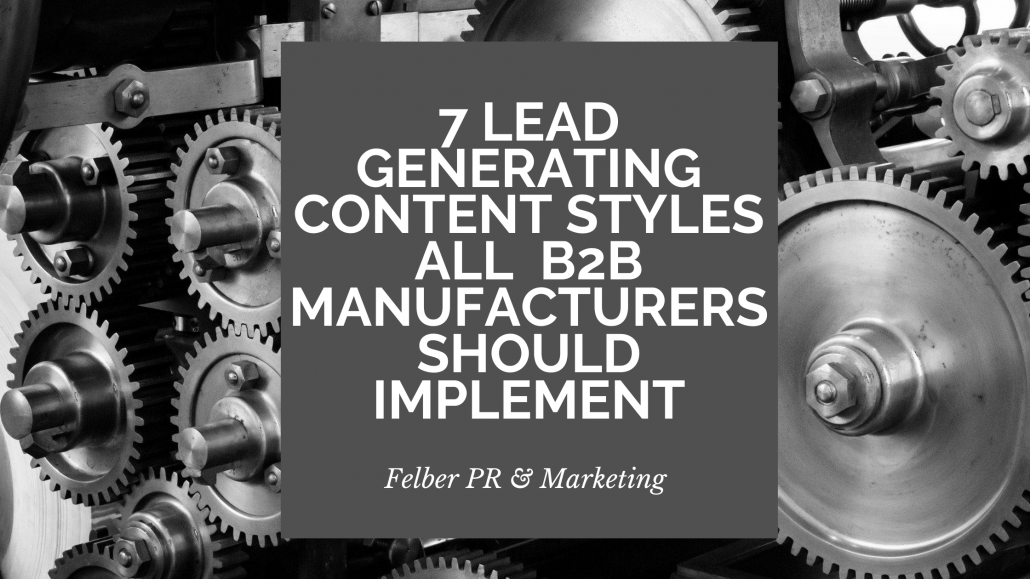 A strong, lead generating inbound marketing plan must include content that helps prospects in all stages of their buying process. Below, learn 7 types of content you should implement now for ultimate success.
After the year we just came through, we now know that we can accomplish much more than we thought just 12 months ago. Pick just one of these content tactics and start your 2021 with a fresh approach.
1.  Blogging
Blogging consistently (we shoot for 2-4 new posts for ourselves and clients per month) is a great way to boost organic SEO and make your brand pop up when your prospect searches for a product or service you sell. By sharing helpful and educational content, your company will be able to build a relationship with your prospects that turns them into engaged leads and eventually customers. Felber PR & Marketing Blog (since 2008).
Not sure what content to write for your blog? Are you looking to establish yourself as an industry leader, increase brand awareness, generate leads, and close customers? Blogging is an excellent way to showcase your company's expertise and create relationships by sharing your knowledge.
Struggling to develop content ideas? Check out our blog 10 Ways to Reignite Your Manufacturing Blog with Great Content for a list of great ideas!
2.  Comprehensive 101-Style eBooks
Would you like to cover a more in-depth topic through written content that makes sense in a blog and capture qualified leads at the same time? Then, you should consider developing an eBook.
We've utilized '101 style' eBooks with many of our clients which essentially take multiple blog posts and compile them together to create an eBook.  Check out our client Grand River Rubber & Plastics who developed a Custom Gasket Design Guide that was developed using this concept.
Developing an eBook using a blogging strategy is powerful for a  few reasons:
We're developing blog content with the end goal in mind (developing an eBook)
We map out the chapters of the eBook and write them as stand-alone blog posts that we utilize to drive SEO to our client's websites
Once we've finished all the blogs (aka chapter content), we can easily put the content together, expand on certain chapters if necessary, and put a professional graphic layout.
We preach to our clients all the time that content can be used more than once! Just because you've used a piece of content one way, doesn't mean it can't be utilized again in another facet. Do you have 5-10 in-depth blogs on a topic? That could be a great eBook in the making! Need more examples? Check out our free ebooks.
3.  Product or Process Comparison Documents and InfoGraphics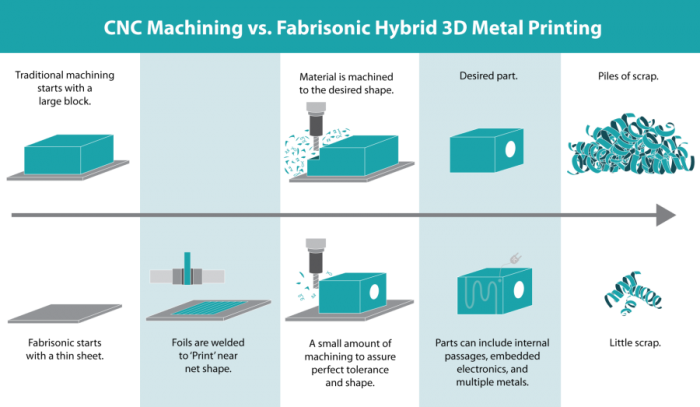 Above: Client Process Comparison Example, Fabrisonic
When your prospects are searching for a solution to their manufacturing challenges, they will compare processes or products. For example, let's say oftentimes, prospects are between utilizing injection molding or 3D printing. Why not develop a document or webpage that breaks down the pros and cons of each process? This will not only be extremely valuable to your prospects but also will help you establish your brand as an industry expert.
4.  Sales Literature
Your prospects will want to have a clear understanding of your capabilities and expertise. Having spec sheets and brochures available to download on your website is critically important. Also, sales literature provides an excellent way to capture leads on your website.
Don't be afraid to gate the content, or require someone to fill out a form to download it. However, it is important to note that your form shouldn't be too long. Rule of thumb, your form length (information you are asking for) should always match the value of the content provided.
For more technical pieces of content such as white papers, you can ask more in-depth questions about the prospect. However, for a sales literature piece, even just asking for their email address does wonders from a lead generation standpoint. If you are utilizing HubSpot, you can then track that prospect's behavior on your website from their first time on your site.
You can also enroll them in automated email campaigns. Also, don't worry. Your HubSpot forms are smart and you can gather more information about your prospect when they fill out forms to download pieces of content or contact a sales rep in the future!
Check out our client General Die Casters Sell Sheet here
5.  Video
Video is an incredible tool to use in the sales process for manufacturers. Many manufacturers have not incorporated video because they feel fancy equipment, editing software, and production are required. While professional videos are highly effective, you can also develop videos from your computer for sales purposes.
Nonprofessional Videos We Recommend Manufacturers Try:
We (and our clients) have been using a free video platform called Vidyard (which integrates with HubSpot) for our newsletter, sales efforts, and client training. Vidyard allows you to easily take videos from your webcam or phone.
We suggest manufacturers utilize Vidyard for the following:
Newsletter videos
Personalize videos for sales emails
Quick and personalized customer tutorials
LinkedIn videos (how-tos, customer stories, list-style tips, and tricks)
Professional Videos We Recommend Manufacturers Utilize:
Product or equipment demos
Virtual tours
Customer testimonials
Company overview videos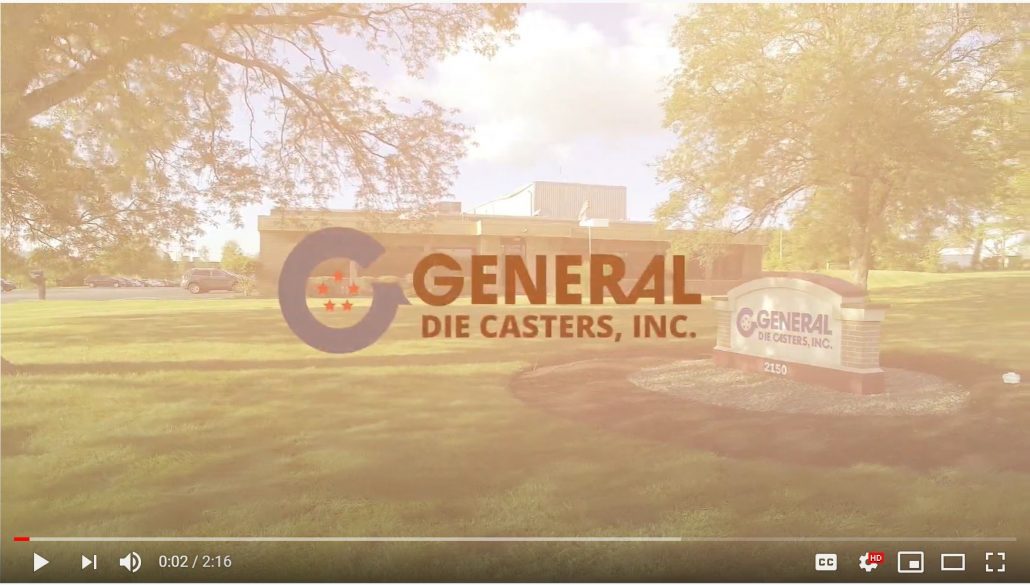 Client Example, General Die Casters Overview
6.  Case Studies
Case studies provide your manufacturing company an incredible opportunity to showcase your expertise, product value, and customer service. Case studies are valuable because they give your company third party credibility.  Unlike a testimonial, a case study is meant to be in a long format. An excellent case study really allows your audience to get to know your customer, understand your company's relationship with them, and fully explains in detail your work together. Then, your customer can get a better picture of what it would be like to work with you!
Are you saying to yourself, this is great but I'll never be able to get my customers to participate in case studies, don't fret.  Check out our blog, How to Convince Your Stubborn Manufacturing Customers to Participate in Case Studies for our tried and true tips to get your customers to say yes!
Check out client Grand River Rubber & Plastics Case Study, 'GRAND RIVER RUBBER & PLASTICS HELPS RESTORE 1913 ELEVATOR AT HISTORIC SAN DIEGO HOTEL'
7.  Technical Papers
Technical papers are excellent to assist your prospects through their buying process. They also provide an excellent opportunity to gather more information about your prospects via forms. We suggest having your technical papers gated, meaning behind the form for ultimate lead generating potential. When you have a valuable content offer like a technical paper, you can ask more in-depth questions on the form.
For example, our 3D metal printing client, Fabrisonic asks this question on their recent Space-grade 3D metal printed heat exchangers technical paper:
How are you currently manufacturing your heat exchangers? Select all that apply:
CNC Milling
Brazing
Powder Bed Fusion
When developing form questions for your technical paper forms, ask yourself, what are the top 3 questions our salespeople or engineers need to know to best assist a prospect?
We hope you choose to implement one or more of the  7 content ideas in this article. To have a successful inbound marketing strategy, it is important to have a variety of different content that appeals to your buyer personas (or ideal buyers) and answers their questions throughout their decision-making process.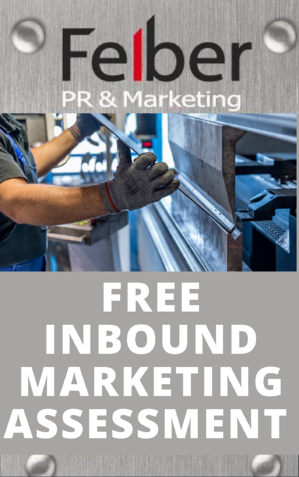 Looking to ramp up your content marketing strategy? Do you have a great team of engineers that are not writers? We can help. At Felber PR & Marketing, We Get Manufacturing. Since 1993 we've helped manufacturers develop strong content that generates leads, moves them through the sales cycle, and closes those leads as customers.
Call Rob Felber (330) 963-3664, RobFelber@FelberPR.com, or click here for a free assessment.
https://www.felberpr.com/wp-content/uploads/Felber-30th-logo-600-min.jpg
0
0
Rob Felber
https://www.felberpr.com/wp-content/uploads/Felber-30th-logo-600-min.jpg
Rob Felber
2020-12-30 10:06:44
2020-12-30 10:06:44
7 Lead Generating Content Styles All B2B Manufacturers Should Implement