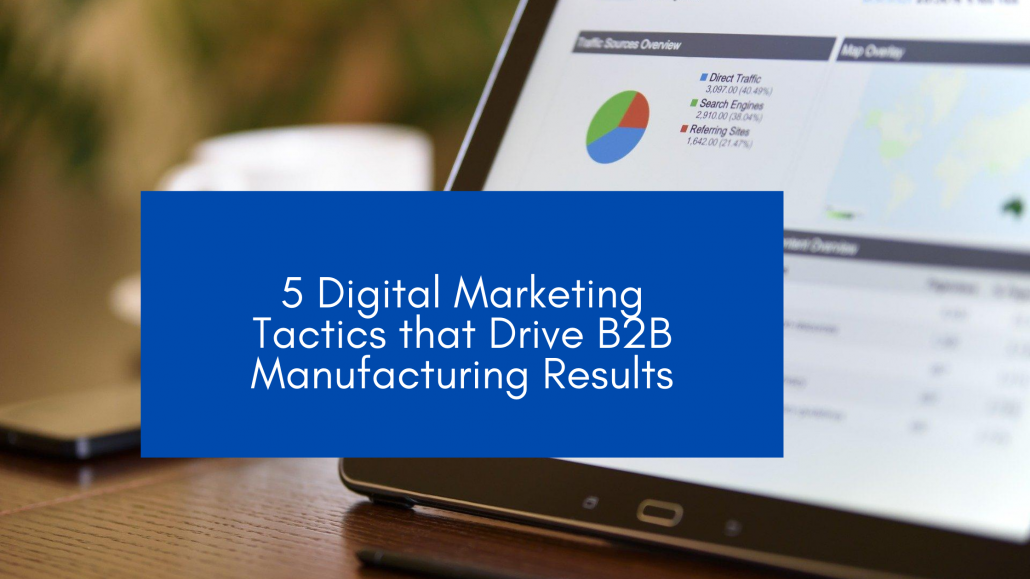 When manufacturers mentioned relationship-building years ago, the first thought that would come to mind is holding multiple face-to-face-meetings with key stakeholders. Fast-forward 2021 and, well, you know that storyline!  However, over the last decade, many manufacturers have shifted their sales strategy digitally to attract more leads, build relationships with prospects through content and email nurturing, and closing them quickly and more efficiently.
While face-to-face interactions still have value, manufacturers who are utilizing inbound marketing are optimizing their sales process by identifying who the leads are on their websites, what solutions they are looking for, and ultimately, when they are ready to talk to sales in their decision process.
Below, learn 5 effective strategies to strengthen your manufacturing company's digital presence and increase lead generation and sales.
1. Tie all marketing back to the buyer personas
In order to have a successful B2B manufacturing inbound marketing strategy, you must first have a clear understanding of who your target audience is and also, who the various decision-makers are at the companies you are targeting. At Felber PR & Marketing, we stress to our manufacturing clients that in order to see success from your digital marketing campaigns, you must personalize your buyer's experience with your brand.
To highlight this principle, let's use a fictional fastener manufacturer 'Fallon Fasteners' as an example:
Fallon Fasteners may have a few different buyer personas or "ideal buyers" they target. We choose fun and easy to remember names to identify the different personas our clients are targeting. One is 'Mechanical Engineer Eddie', a late 30's engineer with 5 direct reports at an automotive company. Another is 'Buyer Betty', an early 40's purchasing manager at a marine company. Eddie and Betty should be served different content because their goals in choosing a fastener company are different. Eddie will be compelled to work with the Fallon Fasteners by being sent industry research, technical blogs, white papers, and customer testimonials because he is driven by bringing the most effective solution to his company. In contrast, Betty will be compelled to work with Fallon Fasteners if she is sent content that showcases cost-savings or just-in-time manufacturing because Betty's performance at her job is evaluated by saving capital and choosing vendors that deliver products or parts in record time.
Our blog, 'Why Buyer Personas are Invaluable for B2B Manufacturers', walks you through the process of creating buyer personas at your company!
2. Focus on Search Engine Optimization (SEO) strategy
Manufacturers often put considerable effort into developing a beautiful new website and great content but if it is not easily discoverable on the web, you will not see optimal lead generation. By utilizing strong on-page SEO tactics, such as image alt-text and strong meta-descriptions on all pages and content, you can improve your website's ability to be found by your ideal buyers.
What is alt-text?
Also called "alt tags" and "alt descriptions," alt text is the written copy that appears in place of an image on a webpage if the image fails to load on a user's screen. This text helps screen-reading tools describe images to visually impaired readers and allows search engines to better crawl and rank your website. This HubSpot blog showcases what good and bad alt-text look like.
What is a meta description?
A meta description is the brief snippet of text that appears below the blue link in a search engine result. This description summarizes the content of the webpage linked above it, and although it is not an official ranking factor in Google search results, it can be edited to encourage people to click through to the webpage. This HubSpot explains how to write a meta description that drives SEO.
Looking to create an SEO strategy but don't know where to start? Check out this resource HubSpot created with a helpful template included!
3. Boost Pay-Per-Click (PPC) campaigns with great content offers
While you can generate strong leads through organic search traffic alone, we recommend integrating paid advertising via Google Ads and social media advertising (LinkedIn Ads), to ramp up the lead generation for our clients. In the manufacturing space, our customers do very well with paid content offers on LinkedIn.
PPC campaigns allow you to target your ideal audience and distribute your content to the right people, companies, and professions. With a strong PPC strategy, manufacturers can reach new prospects, old customers that 'went dark', or current customers that you would like to sell additional products or services based
A great way to increase conversion on your paid ads is by offering a great piece of content. Read: 7 Lead Generating Content Styles All B2B Manufacturers Should Implement. Your prospects are much more likely to fill out your forms if they are getting something valuable in return.
Our manufacturing clients have seen great success by offering the following pieces of content in their pay-per-click ads:
eBooks
Technical/White Papers
Capabilities Documents
Check out 'Why Your Pay-Per-Click Ads Aren't Working' for more helpful PPC strategy tips!
4. Leveraging LinkedIn to Drive Lead Generation
Selling is a social process – we are often quoted saying "people do business with other people." And LinkedIn is one of the most valuable social tools in a B2B manufacturing sales professional's toolkit.
Top manufacturing salespeople may spend hours a week on LinkedIn because of the promise of significant ROI. You probably spend a lot of time cultivating valuable connections by prospecting on LinkedIn but how do you take it a step further? How do you take those contacts from LinkedIn connection to engaged prospects and ultimately, close them as a customer? Our latest eBook, Leveraging Linkedin for Manufacturers 2.0 answers those questions and many more including: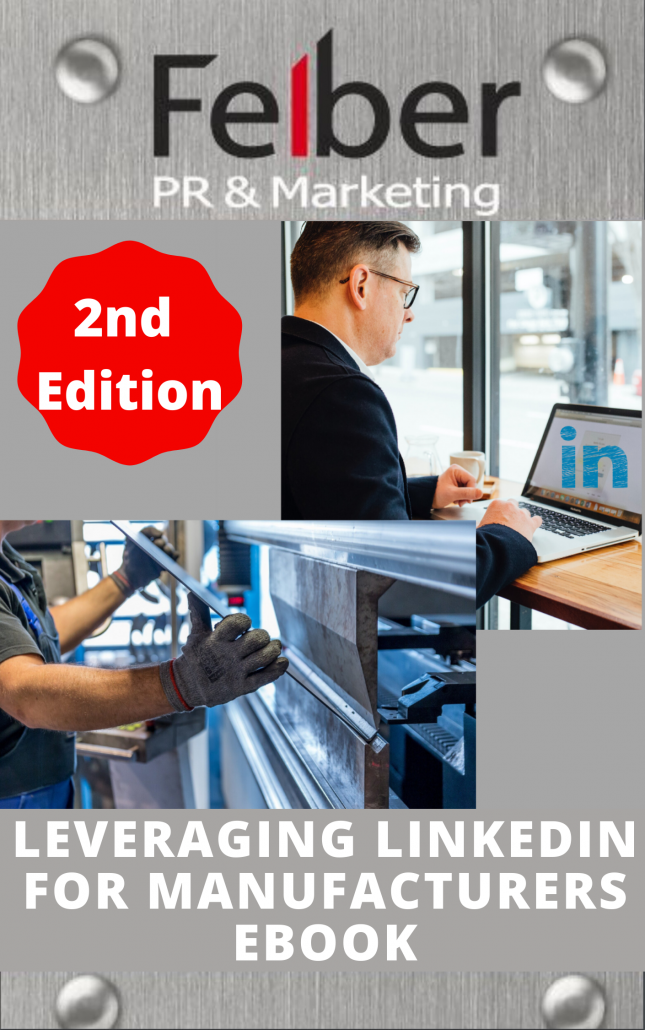 Optimize your LinkedIn profile
How to increase recommendations and endorsements
Ways to Grow your network
Content marketing on LinkedIn 101
How to sell better with LinkedIn
Download our Leveraging LinkedIn for Manufacturers 2.0 eBook here for helpful tactics and valuable templates!
5. Measure ROI & Monitor Campaigns Effectively
In order to have a successful inbound marketing strategy, you must be able to easily have access to data and be able to analyze what tactics are working well and which are underperforming, so that you can adjust your marketing and sales efforts for ultimate ROI. How are you currently tracking the effectiveness of your blogs, landing pages, web pages, forms, emails, social media posts, and advertising?
Can you easily track individual tactics and tie it all back to a campaign in order to measure return-on-investment? Your marketing, sales, and customer service team needs accurate information, and they need it now. Our clients utilize HubSpot, which is a helpful tool that ties all teams together and provides everyone access to the same, central database. No need to wade through multiple platforms on different servers.
Check out our blog, 'Why B2B Manufacturers Should Utilize HubSpot', to learn how your clients are tracking ROI from sales and marketing strategies on the platform.
At Felber PR & Marketing, we work exclusively with business-to-business manufacturers. We help our clients drive quality leads, determine the best tactics for their unique goals, and integrate HubSpot with our manufacturing clients in order to track net new leads and customers acquired from your marketing and sales tactics. Interested in ramping up your inbound marketing strategy? Contact robfelber@felberpr.com or (330) 963-3664 to get started!

https://www.felberpr.com/wp-content/uploads/Felber-30th-logo-600-min.jpg
0
0
Rob Felber
https://www.felberpr.com/wp-content/uploads/Felber-30th-logo-600-min.jpg
Rob Felber
2021-01-21 15:40:01
2021-01-21 15:40:01
5 Digital Manufacturing Tactics that Drive B2B Manufacturing Results