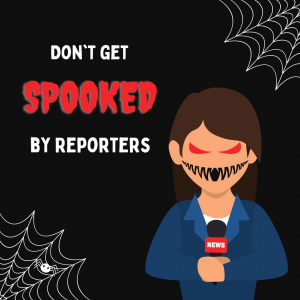 Contrary to what you may have heard, reporters and editors in the business-to-business manufacturing world are not scary. They are not ghoulish. They are not out for blood. They do not have razor-sharp fountain pens.
These media folks are professionals, curious to a fault, and looking to provide their readers (your prospects and customers) with the most accurate, up-to-date, insightful content. They certainly are not the people to be afraid of when conducting an interview. While we all might get nervous speaking in public or with a reporter, working with the key people that cover your industry is critical to getting the word out about your latest innovation or service. No need to carve a jack-o-lantern to scare them into printing your story. Establish a relationship first and it will be like talking to an old friend (although candy never hurts).
Here are three ways to calm the nerves before an interview and achieve the goal of placing your message in front of thousands of their subscribers:
1. Practice. We always tell our clients that the first time they say something should NOT be in front of a reporter. Practice what and how you want your message to be received. Consider media training or simply having a colleague role-play the interview or recording a practice interview for critique.
2. Plan out what you want to say and just as importantly, the topics you want to avoid. Way too many times we have seen a CEO tell us what they do not want to address only to get caught up in the excitement and spill the beans. Note, once it is said, it is hard to retract. If you already crossed the path of a black cat… well, he's out of the bag! Said another way, we ask you what you would give your left arm not to have to discuss, then plan your answer should that topic come up.
3. Graphics, charts, and photos to the rescue. Having these tools at the ready can help you stay on point as well as provide the reporter with pre-written content for their story. Always, always, always have the high-resolution photos, videos and infographics packaged and ready to send at the conclusion of an interview. While the editors are not scary, the deadlines they work under are, and we have seen stories killed faster than Michael Myers on Halloween when materials are not ready. The editor may have no choice but to skip or delay your story for lack of decent "art." Then, your story may have actually died.
So, pack up your giant pumpkin basket, a few coins for UNICEF, and get into costume. It's time to tell your (ghost) story. Happy Halloween from Felber PR & Marketing!
Need some more PR tips? Download out free Manufacturer's Guide to Public Relations eBook below!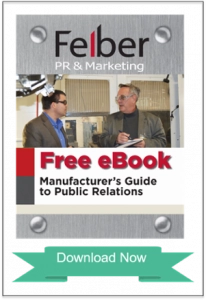 https://www.felberpr.com/wp-content/uploads/Felber-30th-logo-600-min.jpg
0
0
Zoe Blank
https://www.felberpr.com/wp-content/uploads/Felber-30th-logo-600-min.jpg
Zoe Blank
2022-10-25 11:00:44
2023-04-10 14:38:39
Don't Get SPOOKED by Reporters